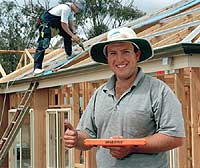 GRAB STICK™ Makes Life a Breeze for Roofers
22 February 2002
A simple Australian invention could transform the roofing industry by making steel roofing battens the preferred option for many contractors. Pictured is David Treloar of Bendigo based Gary Clark Plumbing, one of the first companies to convert to GRAB STICK™.
The GRAB STICK™, a magnetic tool to clamp insulating paper to the battens, is winning over roofing contractors who say it makes working with steel battens substantially easier and quicker than using traditional battens.
Developed by Bendigo inventor and tradesman Warrick Smith, the GRAB STICK™ uses two high-tech neodymium magnets to clamp the paper securely and neatly to steel battens, even when the wind reaches levels that would normally put a stop to roofing work. Warrick Smith describes the GRAB STICK™ as "like an extra pair of hands".
Metal roofing specialist Gary Clark of Bendigo-based Clark Plumbing was one of the first converts to the combined advantages of GRAB STICK™ and steel roofing battens.
After almost two years of using an early prototype of the GRAB STICK™ , he has found it makes roofing work much easier.
"The one challenge with steel battens used to be securing the insulating paper, but the GRAB STICK™ makes it easy, and we now prefer to use steel battens whenever possible," he said.
Although simple in concept, GRAB STICK™ has numerous detail features to make life easier for almost any trade working on a job with steel framing or cladding.
A unique string line groove clamps the string in one simple movement and holds it firmly in place when the GRAB STICK™ is placed on any steel surface, such as a roof, fence or frame. Other fittings allow for electric cables to be secured safely out of harm's way.
"People find all sorts of uses for them - roofing contractors were the original target, but all sorts of trades have found uses for the GRAB STICK™ , including farmers," Warrick Smith said. "One of the big things with farmers is that they often work alone, and that's when the idea of an extra pair of hands really comes into its own.
"It's the same for tradespeople who work on their own or in small crews. Several contractors have told me it's like having an extra person on the job."
GRAB STICK™ is available from several leading trade outlets, with the distribution expanding to meet the growing demand.
For further information, or details of the nearest outlet, contact GRAB STICK™ :
Phone: 03 5444 4740
Fax: 03 5444 5340
Mobile: 0419 598 285
Email: grabstick@origin.net.au
Web: www.grabstick.com.au