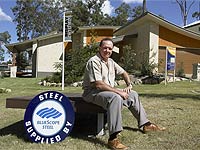 Homebuyers Love the Boss
09 June 2006
It only takes a few minutes with Ian Anderson to realise how passionate he is about building homes. In fact, the managing director of multi-award-winning Queensland company Individual Boss Homes is so dedicated to the design and construction industry, he recently opened a training centre for aspiring builders called the Boss Institute.
Ian, who has been designing and building houses for 30 years, says Individual Boss Homes advocates a simple approach to design and construction.
"Every house is built to the suit the owner," he says. "We talk to people about what they want and every house is individually designed."
He says homes should reflect the owners' personality, needs, family composition, age, health and interests. Each home is designed to suit its environment. "We take into account things like the slope, the position, whether it's north facing, the breeze, everything," Ian says.
Boss Homes houses are also built to be sustainable and to reduce heating, cooling and water supply costs. Ian says rising electricity and water costs mean sustainability is becoming increasingly important. "One house we've built is an entirely self contained unit. It uses solar power, underground water tanks and a recycled sewerage system."
Boss Homes' commitment to environmental values includes plans to open a warehouse where most of the construction of steel frames can take place before transportation. Ian says this will reduce the wastage of materials left on site, and cut down pollution caused by contractors travelling to the construction site.
Boss Homes caters for a variety of budgets, from luxury executive homes to coastal beach houses and an affordable homes range. The company has also designed and built a number of houses in residential estates including Coomera Waters and Cotton Ridge.
Boss Homes has won numerous awards including Housing Industry Association Display Home of the Year over A$300,000, Queensland Masterbuilders Awards Best Pole Home over A$250,000, Most Innovative Use of Steel and an award for Best Regional Employer.
Ian has several building qualifications, including a Diploma in Building, an Advanced Diploma in Building and a Certificate in Construction. He also has a degree in Educational Sociology and has completed a Masters of Workplace Training, and worked as a teacher / sportsmaster in the 1970s.
It was this experience that prompted him to launch the Boss Institute, which offers 30 students aged 16 and over an education in construction and building.
The graduate course, which was overwhelmed with more than 120 applications in its first year, replaces traditional high school education and includes subjects such as construction, engineering, maths, English, golf and outdoor education.
"It's the old school teacher in me that knew a better way to teach," he laughs. "People have made the mistake that university is the be all and end all and that careers in building are a dead end. But this course is the sort of thing I would have loved at that age."
Ian's focus on education also extends to Boss Homes employees, the company itself has a strong staff development and ongoing training program.
Ian says he enjoys using steel to build homes because of both aesthetic and environmental reasons. "Steel houses are where it's going."
Boss Homes is the leading company for the eco-friendly Cotton Ridge development. Ian has chosen to use framing made from TRUECORE® steel, roofing made from COLORBOND® steel and BlueScope Water rainwater tanks in this estate because he considers them the most environmentally friendly materials.
"Steel from BlueScope Steel is totally recyclable and unlike timber there are less pieces that have to be cut on site, thereby reducing wastage. You also don't have to use anywhere near the amount of pesticides and treatments that timber needs. Plus it's termite proof."
Ian says BlueScope Steel was well known for producing excellent products. "It's consistent and the COLORBOND® steel colours are always true."
He says Boss Homes' membership of the BlueScope Steel Brand Partnership Program allows his company to gain leverage from BlueScope Steel's quality reputation.
For more information contact:
Ian Anderson
Ph: 07 5559 1277