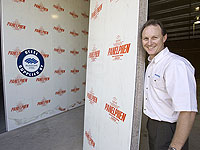 International Fire Rating for Austec Panel Systems
23 January 2007
A revolutionary fire rated steel and foam panel suitable for roof and wall structures has gained international recognition for Sydney based building systems developer Austec Panel Systems.
International insurance giant FM Global has awarded Austec Panel Systems' new PANELPHEN Insulated Panel Systems an FM Class 1 fire rated accreditation.
"PANELPHEN panels can withstand extreme heat which protects the investments of those companies who utilise the advantages of building with insulated panels as opposed to traditional polystyrene filled panels," Adrian Zadro of Austec Panel Systems says.
Family owned company Austec Panel Systems took two years to develop PANELPHEN, which consists of a rigid polystyrene/phenolic foam core sandwiched between two sheets of COLORBOND® steel. The panel is suitable for commercial, industrial, residential and agricultural uses.
For cold storage applications, the company is also using COLORBOND® Permagard® steel, a new product recently introduced by BlueScope Steel which incorporates Microban® antibacterial technology to inhibit the growth of harmful bacteria that can cause cross contamination and food poisoning.
"PANELPHEN is a lightweight, structural panel with a standard width of 1200mm and thicknesses ranging from 50-250mm," Adrian says. "The length can be customised to the project."
Adrian says Austec Panel Systems has received a large number of national and international inquiries since releasing the product, particularly from builders wanting to use the fire rated panels in bushfire zones.
"We've had inquiries from local developers looking to build houses now that PANELPHEN insulated panels have a fire rated accreditation," Adrian says.
Austec Panel Systems has built more than 1,000 projects using another product called Panelex Insulated Panel Systems.
Adrian says Panelex has thermal and structural advantages, and can be used in a variety of domestic and commercial applications. It was recently used at Sydney's Lucas Heights nuclear facility.
"We've used Panelex to build cool rooms, fish farms, wineries and abattoirs. The antibacterial benefits of COLORBOND® Permagard® steel are ideal for our cold storage applications," he says.
Austec Panel Systems has also used Panelex to build homes, and can add rough textural or sandstone coatings to the panels to give them a designer look, or turn them into water features.
Adrian says both the PANELPHEN and Panelex Insulated Panel Systems allow buildings to be erected in a fraction of the time taken by traditional building methods, and at a fraction of the labour cost.
"We prefabricate wall panels, windows, doors, flashings and fixings," he says. "We can provide the panels in kit form or as a turn key solution including design."
The company is a member of the STEEL BY™ Brand Partnership Program and uses about 200,000 square metres of COLORBOND® steel and COLORBOND® Permagard® steel a year to manufacture its panel systems.
Adrian says the company's ability, through the Brand Partnership Program, to align itself with the strength and quality associated with the BlueScope Steel brand, adds value to Austec Panel Systems' own brand and reputation.
"We always recommend using COLORBOND® steel because it's Australian made, and we can rely on the strength, quality and durability of the product," he says.
For more information contact:
Adrian Zadro
Austec Panel Systems
Phone: 02 9756 4334
www.austecpanels.com.au