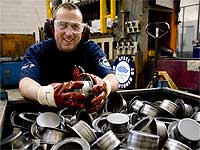 Keeping it Quiet in the Cabin
09 June 2006
The sound of a quietly purring car engine is music to the ears of any motoring enthusiast, but for staff at a Melbourne metal fabrication company it's also a sign of a job well done.
Production Stamping Co has supplied pressed metal components for suspension and vibration parts that minimise noise to some of Australia's biggest automotive companies for more than 30 years.
Operations Manager Lindsay Guscott says the company has in depth knowledge of press metal manufacturing. As a second and third tier automotive industry supplier, it works with engineering companies, offering practical advice on how new designs can be best manufactured from a metal stamping.
The Production Stamping Co is a family run business originally set up by Lindsay Guscott's father. "It's a hands on company and we all enjoy working together," Lindsay says.
"Manufacturing parts for yet to be released cars that might not hit the road for another two years is particularly interesting. The automotive manufacturing industry has become very high tech these days. More and more now, car companies demand cabin noise be reduced to a minimum."
As well as automotive parts, Production Stamping Co also makes innovative steel pallet feet which help give stillages, or bulk containers, a longer life. The pyramid like feet help forklift drivers align and stack containers more easily.
Lindsay says Production Stamping Co uses XTRAFORM® steel from BlueScope Steel because of its guaranteed high yield strengths.
"We use specialty steels from BlueScope Steel that are high wear resistant and have superior mechanical properties, including a reliable strength to weight ratio. A great result has been achieved for our customers using Australian design and technology combined with Australian steel," he says. "Importers don't offer the same grades of steel as BlueScope Steel and we need a quality product from a guaranteed source that performs consistently. As our automotive customers do not want to stop their production, consistent supply through the chain is vital. Line stoppages are very expensive."
Production Stamping Co is a member of the Steel by BlueScope Steel brand partnership program and displays signs indicating that it uses steel from BlueScope Steel. Mr Guscott says this helps align Production Stamping Company with BlueScope Steel's reputation for producing quality, Australian made steel.
"Using steel products made by BlueScope Steel and supplied to us by Smorgon Steel gives us a competitive edge and value for money."
For more information:
Lindsay Guscott
Ph: 03 9725 5666

More about these products