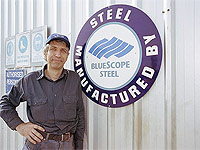 Kel Steel Constructions is a Real Two De Force
04 May 2005
A small Perth manufacturing company has carved a niche for itself by turning its two man size into an advantage. Kel Steel Constructions in Armadale manufactures steel components for builders of sheds and warehouses, using ZINCALUME® steel from BlueScope Steel.
Repeat business represents a growing part of its output. The company specialises in supplying one off and non-standard components where its small size and flexibility give it an edge over its competition because it can better meet customers' requests and tailor solutions to their exact needs. It also supplies the needs of tradesmen and home handymen.
Henry Ronchi's father Eugenio Ronchi founded Kel Steel Constructions and managed it until eight years ago when Henry took over the management. With just a two man workforce the company has to make every post a winner.
It has invested in the latest press and guillotine equipment and has recently joined the Steel By Brand Partnership Program, highlighting its use of genuine COLORBOND® steel, ZINCALUME® steel and XLERPLATE®.
"We've always used steel from BlueScope Steel," said Henry Ronchi. "BlueScope Steel's record of quick supply allows us to deliver quicker results to our customers." Mr Ronchi said the ability of a small company such as his to align itself with a major Australian brand such as BlueScope Steel was very important for building customer confidence.
"We have only had the Steel Manufactured By BlueScope Steel signage on our premises for a few weeks, but customers have already commented on it," he said. "Thanks to the new signage, they immediately know that we use only steel from Australia's leading manufacturer, BlueScope Steel. BlueScope Steel also provides technical support through its distributor OneSteel, which is invaluable to a business our size."
For further information contact
Henry Ronchi
Kel Steel Constructions
Ph: 08 9399 2870