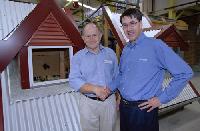 Kickstart into the Building Industry
29 January 2004
Gymea TAFE and BlueScope Steel have created a once in a lifetime opportunity for students keen to pursue a career in the building industry.
A new 13 week roof fixer course, for students who have completed Year 10, 11 or 12, started on 1 March. On completion of the course it could be the beginning of a new career in an established apprenticeship.
Gymea TAFE, located in Sydney's southern suburbs, is hoping to attract interest from students from the surrounding area, the Central Coast and from the Illawarra.
Gymea TAFE senior head teacher of metal roofing, Raymond Jones, believes the new short term course is an outstanding opportunity for students to get a jump start into the building industry.
The course is the first in New South Wales to provide pre-vocational training in metal roof fixing, including five weeks of work release working with a qualified tradesperson and eight weeks of practical and theoretical training at Gymea TAFE.
"This is also our first joint venture with BlueScope Steel, which is providing both funding and materials along with special pre-vocational funding provided by the New South Wales State Government," said Mr Jones.
"The concept is to gain 100% job outcomes for the course participants. Traditionally most metal roofing students have come through a conventional apprenticeship scheme, including three years of TAFE, and at the completion becoming a qualified metal roofer."
The course will cover working safely on roofs, Occupational Health & Safety requirements, the fabrication and installation of metal roofing, roof plans and calculations - competencies designed to help students get a job straight away.
If you are interested in a building industry apprenticeship and like working outdoors, are not afraid of heights, enjoy working with your hands, likes to see a project completed, and is keen to learn new skills, then this could be for you.
Students who successfully complete the Certificate 1 course will also receive a A$500 tool kit from BlueScope Steel and a TAFE/BlueScope Steel commemorative graduation jacket.
To find out more about applying for the course contact Raymond Jones at Gymea TAFE on Ph: 02 9710 5090 or Email: ssi.gyplumbing@tafensw.edu.au
For Further Information Please Contact:
Raymond Jones
Gymea TAFE Cnr Kingsway and Hotham Road
Gymea NSW 2227
Ph: 02 9710 5090
Email: ssi.gyplumbing@tafensw.edu.au