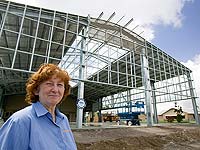 Kirwan Steels A March On Townsville Tenders
18 May 2007
Quality assurance, quick production turn around and competitive costings continue to generate tendering successes for Townsville fabrication company Kirwan Steel Pty Ltd.
Owned and operated by Bill and Coral Gard, the company specialises in fabrication work for commercial projects, tendering through State Government construction and maintenance services such as QBuild.
Kirwan Steel, which has offered quality assurance for more than 12 years, has fabricated steelwork for the gymnasium at the Townsville Sports Reserve, one of only six International Association of Athletics Federations certified tracks in the Oceania region.
Other recent projects have included work for Townsville Sports Reserve's entry building, high rise apartment blocks for developer Honeycombes, and the expansion of Castletown Shopping Centre.
"The Sports Reserve job was challenging because we had to fabricate roofing framework and purlins for an oval shaped roof," Coral says.
The company has also won several recent QBuild tenders, working on seven school extensions in the past year.
"We've fabricated steelwork for new buildings and a multi purpose shelter at Annandale Primary School, new buildings for St Anthony's primary school at Deeragun, and a performing arts centre at Pimlico High School," Coral says.
Most fabrication jobs Kirwan Steel undertakes range from A$30,000 to A$300,000, Coral says.
Kirwan Steel works on about 140 jobs a year, using COLORBOND® steel and LYSAGHT® Zed & Cee Purlins sourced through distributor Smorgon Steelmark Metals.
The company's Garbutt workshop is equipped with a bandsaw, two punch and shearing machines, guillotine, press, six mig welders, steel straightener, and two overhead cranes with a total lifting capacity of seven tonnes.
Coral and Bill have also spent the past two years building a steel framed home at Halifax, about an hour's drive north of Townsville.
"The two bedroom, open plan home has a roof made from COLORBOND® steel and matching shed made from COLORBOND® steel," Coral says. "It's where we plan to retire!"
Coral and Bill started Kirwan Steel 22 years ago under an A frame tarpaulin. The company now employs six people, including Coral and Bill's son Timothy, a boilermaker.
Kirwan Steel, which has been using BlueScope Steel products from the outset, is a member of the STEEL BY™ Brand Partnership Program, displaying program signage on the front fence, and using stickers on its invoices.
"The quality of BlueScope Steel products remains consistently high," Coral says. "We're proud to support local distributors by buying Australian made goods."
For more information contact:
Coral Gard
Kirwan Steel
Ph: 07 4774 6500
More about these products