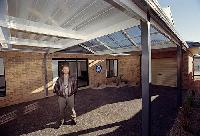 Lifestyle Drives Home Extension Market
14 November 2005
A Melbourne based housing extension company and medium sized builder have teamed up to offer homebuyers a more complete lifestyle package. Alfresco Lifestyle Extensions has built all steel pergolas using COLORBOND® steel for two of the display homes featuring in the new range of Ewington Homes, which builds about 80 homes a year.
News Item: 27 July 2005
Ewington Homes director Rob Bender says the company has introduced the pergolas because clients want the convenience of having an outdoor area already built with their home.
Response to the two new display homes at Narre Warren South in Victoria has been overwhelming.
"We have had people walk in off the street before the homes were even finished just to look at the pergolas, they certainly have wow factor," Mr Bender says.
"This is the first time we have offered the COLORBOND® steel pergola with our homes. The product has enormous design flexibility and, most of all, is low-maintenance. This pergola is made from LYSAGHT FIRMLOK™ BEAM and roofing made from LYSAGHT FLATDEK®, supplied by BlueScope Lysaght."
Mr Bender says he is also impressed with the people at Alfresco. "One of the pergolas involved a roof pitch they had never used before that they designed and built it to my exact requirements, and it looks fantastic!" he says.
Alfresco Lifestyle Extensions Managing Director Stephen Henderson said the recent growth in outdoor living and the popularity of merging indoor and outdoor spaces have generated huge growth for his company.
"Rather than treating landscaping and outdoor areas as an afterthought, people are tackling them up front as part of building their house. COLORBOND® steel from BlueScope Steel provided a lightweight, contemporary product that is easy to use and maintain."
Alfresco Lifestyle Extensions recently joined the Steel By BlueScope Steel brand partnership program and displays signs indicating that it uses quality steel from BlueScope Steel.
"We want our clients to know they are buying the best steel products by highlighting our association with BlueScope Steel," Mr Henderson says.
For more information please contact:
Alfresco Lifestyle Extensions
Ph: 1300 360 498
Ewington Homes
Ph: 03 9769 9322
More about these products