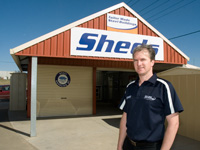 Location A Winner For Tailor Made Steel Buildings
30 April 2008
A Victorian man has successfully moved from the transport and trucking business to the steel industry, selling garages and sheds to rural, residential and industrial customers on Melbourne's northern fringe.
Terry McCoullough, who started Tailor Made Steel Buildings in 2004, now employs three people, himself, wife Theresa, and nephew Scott, and undertakes 12 to 15 jobs a month.
"We deliberately positioned ourselves at Campbellfield on the northern fringe of Melbourne so we could cater for a rural market to the north, and a residential market to the south," Mr McCoullough said.
The strategic location, hard work and quality service is paying off for Mr McCoullough, who says word of mouth now generates 15 per cent of his turnover.
"About half of our work is residential, the other half is mostly rural, with a small amount of light industrial work," he said. "The most rewarding part of running this small business comes when customers call us and send us letters of thanks."
Tailor Made Steel Buildings supplies, delivers and installs garages, carports and sheds ranging in size from 1.8 metres to 40 metres wide, made using LYSAGHT® claddings.
While installations at homes and hobby farms are part of Tailor Made Steel Buildings' day to day business, the company recently supplied, delivered and installed a new driver training centre at Campbellfield.
"The 22 metre long, 10 metre wide, six metre high shed is being used for a forklift driver training facility," Mr McCoullough said.
The company also won a contract to build a skillion roof locker bay at St Albans Secondary College, St Albans.
"We were required to quote for the whole project, including jobs outside our area of expertise," Mr McCoullough said. "We went the extra mile, sourcing quotes from four contractors, and won the job."
Tailor Made Steel Buildings expanded into home improvement in October 2006.
"We often receive calls from customers looking to have pergolas and verandas installed, so we wanted to offer them that service instead of turning them away," Mr McCoullough said.
Tailor Made Steel Buildings builds pergolas and verandas made from LYSAGHT FIRMLOK® Beams and LYSAGHT FLATDEK® steel cladding.
The company's garages, carports and sheds are made from LYSAGHT CUSTOM ORB®, LYSAGHT TRIMDEK®, LYSAGHT TRIMWALL® and LYSAGHT® WEATHERBOARD (available in Victoria only) in COLORBOND® steel and ZINCALUME® steel.
"Our customers often ask us to use LYSAGHT® WEATHERBOARD for cladding because of its horizontal, timber like appearance," Mr McCoullough said. "It's more cost effective than timber, and easier to maintain."
The company recently added two extensions made from LYSAGHT® WEATHERBOARD to a brick Federation style home at Sunbury, a storage room for a caravan, and a workshop.
Tailor Made Steel Buildings is a member of the STEEL BYTM Brand Partnership Program.
"BlueScope Lysaght provides us with consistent service and quality products," he said.
"They also give our customers peace of mind with their warranties. We're proud to be associated with such a great Australian brand."
For more information contact:
Terry McCoullough
Tailor Made Steel Buildings
Ph: 03 9303 7577
More about these products