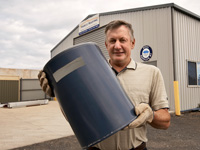 Marco Roofing On The Rise In Melton
30 April 2008
Marco Roofing is not yet three years old, but it has made its mark in one of outer Melbourne's fastest growing zones.
Established in Melton by former roof plumber Eric Marsh in 2005, Marco Roofing is set to move into bigger premises and employ more staff after tripling its business turnover since its first year.
Eric Marsh and his brother David make up the two man Marco Roofing team which manufactures sheet metal products from COLORBOND® steel and ZINCALUME® steel for local roof plumbers and the general building trade, as well as for owner builders.
The company also manufactures purlins and top hat profiles from GALVASPAN® steel coil.
The business is located 46 kilometres north-west of Melbourne, in a zone which has been earmarked by the Victorian government as a key growth centre over the next 20 years.
Melton Council has begun a A$15 billion initiative to establish the area as a major growth centre for Victoria.
Backed by the Victorian Government's Melbourne 2030 strategy, Melton will be the focus for Melbourne's North West development that will create an entire new city, home to up to 100,000 people in the next two decades.
"We are planning our future around Melton's big development, and we feel very well positioned to capitalise on this projected expansion over the next two decades by being a part of the STEEL BYTM Brand Partnership Program," Eric Marsh said.
"We are already seeing the emergence of the owner builder. Marco Roofing believes that this market will increase markedly given the rate of residential development that will happen here over the next 20 years."
"This development is one of the biggest ever undertaken in Melbourne, so we must ensure that we have the resources and infrastructure in place to deal with the on-going increase in demand for BlueScope Steel products."
Up to 37,000 homes catering for 90,000 people will be built in Melton over 25 years.
An estimated A$6 billion in business investment will generate 26,000 jobs.
Mr Marsh says Marco Roofing's membership of the STEEL BY™ Brand Partnership Program has greatly assisted his company's growth by promoting its strong association with BlueScope Steel brands.
"Selling and promoting BlueScope Steel products has been a very positive aspect of our growth," Mr Marsh said.
"We highlight our membership of the STEEL BY™ Brand Partnership Program in our marketing campaigns, and I believe the program has had a significant impact in the marketplace by building trust in our business."
"It gave Marco Roofing credibility and acceptance in the marketplace when we first kicked off by promoting our connection with well known, high quality Australian-made BlueScope Steel products."
"It has helped sustain our tremendous growth ever since."
For more information contact:
Eric Marsh
Marco Roofing
Ph: 03 9747 9044