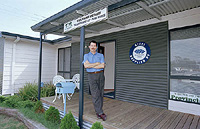 Moving Home Gets Even Easier
04 August 2005
A Western Australian steel building manufacturer of transportable homes has added a Standards Australia seal of approval to another award it previously received from BlueScope Steel. From its 2.5 hectare site in Maddington, south-east of Perth, T&R Homes manufactures complete transportable houses in sizes from 60 square metres floor area and targeted primarily at the rural residential market with hobby farms creating new business.
T&R Homes also build kit homes, park homes and other homes built on a customer's site.
Although some of its customers are owner builders who assemble the buildings themselves, the majority of T&R Homes' buildings are erected to lock up stage, leaving the customer to complete the fit out if preferred when buying a kit home.
"The main advantage for our customers who live on large rural plots of land is that, if they decide to sell up, the transportable homes can be sold along with the property as an asset," T&R Homes General Manager Simon Joiner said.
The larger transportable homes it manufactures are moved in three separate sections to clients' property. They comprise four bedrooms and two bathrooms fully painted and completed, even with air conditioning if requested.
In 2003, BlueScope Steel presented Perth based T&R Homes with an Excellence in Steel Framed Housing Award to recognise its continued commitment to quality and customer service.
T&R Homes has since earned the ISO9001:2000 quality management system certification which confirms that its operations and administration meet stringent international standards.
The company undergoes an audit every six months to determine whether it still conforms to the standard for continued certification. It is also required to document any change it brings to its work procedures between audits.
Some of the buildings T&R Homes manufactures are engineered to withstand strong cyclonic gusts that can prevail in some northern regions of Western Australia.
The company uses quality Australian ZINCALUME® steel and COLORBOND® steel supplied by BlueScope Steel for its products' roofing, walling and rainwater hoods.
BlueScope Steel has a new product called TRUECORE™ steel for the residential building market which T&R Homes use to manufacture their roof trusses and wall frames.
It also roll forms all of its building material and manufactures all its trusses and frames in house.
"Joining the Steel By Brand Partnership Program is yet another step we've taken to reinforce our reputation as a company that relies on quality Australian made steel," Mr Joiner said.
For more information:
Simon Joiner
T&R Homes
Ph: 08 9493 2998