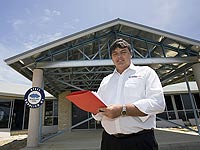 New Homes Steeled For Success in the Country
07 March 2007
Country style homes with frames made from TRUECORE® steel and roofing made from COLORBOND® steel are proving a winning formula for New South Wales builder GJ Gardner Homes.
Owner of the Central Coast operation Gary Palmer says his company builds about 30 homes a year, and the Country Living Collection is one of his most popular ranges.
"We've just built our ninth Country Living Collection home," Gary says. "It's 58 metres long, has six bedrooms, and uses Steel Building Systems Australia's Supaloc framing system made from BlueScope Steel's TRUECORE® steel."
The patented Supaloc framing system allows for quick, easy assembly because of truss to truss connections that don't require screw fixing onsite; the hip and jack trusses clip into each other.
Gary says the flexibility of GJ Gardner Homes' designs has allowed the owners of the six bedroom home to add an extension for the in-laws.
"About 80 per cent of homes in our Country Living Collection feature roofs made from COLORBOND® steel, and a third have a Supaloc framing system made from TRUECORE® steel," he says.
GJ Gardner Homes also uses cladding made from LYSAGHT MINI ORB® for external feature walls, and rainwater goods from BlueScope Steel.
The Stafford, priced from A$321,000, is the top of the range design in the company's Country Living Collection.
"Most builders offer country style homes in the traditional rectangular design with a wraparound veranda, but our Stafford design has a criss cross layout," he says.
"Stafford design homes are unusually large at 497 square metres, boasting five plus bedrooms, four bathrooms, a bar and games room, and car and boat garages."
GJ Gardner Homes offers a range of 30 homes, and each can be customised to buyers' needs.
"We sell homes with classic inclusions from A$100,000, and it's up to owners to decide if they want extras like air conditioning, landscaping and full height tiles in the bathroom," he says.
"Most customers are second or third home buyers who know what they want."
Gary says the company also caters to investors with a range of duplex homes.
"We team up with local developers who own parcels of land, and build investment homes as turn key operations. Tenants need only arrive with their furniture," he says.
GJ Gardner Homes offers customers a five star performance guarantee on all homes.
"We like to keep our customers involved by having them inspect and sign off each stage of the building process," Gary says.
"We had one couple who liked the process so much, they referred their parents to us and we've just finished building a home for them."
Gary says the Central Coast operation of GJ Gardner Homes has gone from strength to strength since he bought the franchise and started the company in March 2004. Gary had been working in the building industry for 26 years and has built more than 700 homes.
The company is a member of the STEEL BY™ Brand Partnership Program.
"You can't beat the service, support and quality provided by BlueScope Steel," Gary says.
"We can't afford to build homes that aren't right the first time. We know we can rely on BlueScope Steel products for quality and our customers' peace of mind."
Gary says the company is currently building six three bedroom, double storey units at Rutherford on the Central Coast, and has a further 10 projects in the pipeline.
For more information contact:
Gary Palmer
GJ Gardner Homes - Central Coast
Ph: 02 4351 0551
www.gjgardnerhomes.com.au