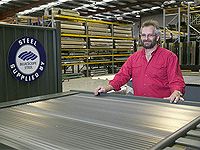 New Housing Development Pushes Fencing's Boundaries
30 March 2005
A leading Melbourne fencing company's collaboration with a successful landscape architecture company has brought a new element of style to housing estate design. Oz Colour Fencing has recently completed fencing the Waterside Estate at Point Cook, the latest housing development from land developers Peet & Company.
Consulting landscape architecture company Earth Tech worked closely with Oz Colour Fencing to devise stylish fencing made from COLORBOND® steel in the colours Bluestone® and Terrace®.
"Landscape architects often specify COLORBOND® steel because it offers them a wide range of design possibilities, from the colour of the fence to the detailing," said Tom Nikolson, owner of Oz Colour Fencing.
Consulting landscape architect Geoff Barden from Earth Tech believes that fencing made from COLORBOND® steel has been instrumental in setting the Waterside development apart.
"The boundary fences provide the development with a strong visual identity," he said. "The range of COLORBOND® steel colours also enabled us to experiment."
COLORBOND® steel provides excellent durability and design flexibility which is unrivalled by other building materials in providing a lightweight, contemporary product that is easy to design, maintain and use.
To personalise the Waterside Estate, Oz Colour Fencing laser cut the logo of the development into the COLORBOND steel fences.
"Our work in meeting the needs of major housing developers in Victoria has seen Oz Colour Fencing develop into a one stop shop," Mr Nikolson said. "We have the ability to mould our designs to any developer's specifications. We can mock up a design and physically construct a fencing panel."
Oz Colour Fencing has also carried out major installations for property developer Peet & Company at its Brimbank Estate at Derrimut in Victoria, using fencing made from COLORBOND® steel to provide residents with optimum convenience and privacy.
Oz Colour's use of the COLORBOND® steel brand from BlueScope Steel has helped the company win the business of major land developers and offer their landscape architects a designer range of fences.
The Melbourne based fencing installer rates its extensive use of COLORBOND® steel and participation in the Steel By Brand Partnership Program by BlueScope Steel, as a very successful business strategy.
"BlueScope Steel offers us an easily recognisable brand in the form of COLORBOND® steel, and a reliable supply of product," said Mr Nikolson. "Customers feel comfortable when they realise they are buying a quality product supported by Australia's leading steel company."
For further information contact:
Tom Nikolson
Oz Colour Fencing
Ph: 03 9368 5500