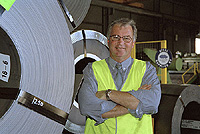 New Premises Underline Brice Metals Growth
10 June 2005
One of South Australia's largest steel distributors is riding a wave of demand for steel products. Steel distributor Brice Metals Australia, a member of the Southern Steel Group, supplies steel to a wide range of industries including automotive, building products, appliances, rural industries, air conditioning and office furniture.
The Wingfield based company will move its sheet and coil division to larger premises at Cavan in October to cope with growing demand. It plans to install two extra production lines as part of the facilities upgrade. This will bring the total number of slitting lines and cut-to-length lines to ten.
General Manager Phil Badcock said the new premises will provide improved materials handling and storage efficiencies and offer much improved facilities for staff. The extra room will allow the company to take on extra work. "We will install a new slitting line and cut-to-length line to increase production and to further improve our reputation for customer service," he said.
Brice Metals has also become a participant in the Steel By Brand Partnership Program, actively promoting its use of steel supplied by Australia's leading steel company.
"It is all about finding a competitive advantage in a very active market," Mr Badcock said. "Dealing in steel from BlueScope Steel allows us to offer our customers good products at a competitive price with good lead times," he said.
"Many of our customers specify they only want products from BlueScope Steel because it's a trusted product. The company also offers excellent backup and technical support," he said.
Brice Metals is one of the leading steel distributors and processors in South Australia. It supplies and processes sheet and coil steel in various forms and sizes to cater for customers whose businesses range from heavy manufacturing to roofing, fencing and guttering. In addition to supplying standard products, Brice Metals also has the unique capability to supply odd shaped steel sheets where required.
It can supply steel sheet cut in parallelograms and trapezoidal shapes, using equipment programmed to minimise wastage and cost.
For more information:
Phil Badcock
Brice Metals
Ph: 08 8268 1244