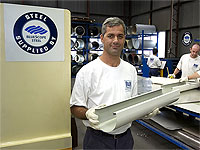 New Technology Faster Service
20 July 2006
Queensland's F & M Fabricators has been using the latest technology to speed delivery of flashing made from COLORBOND® steel for commercial building projects in Brisbane.
Owner Fanos Tanos says his company, which has doubled its staff in the past two years, is growing so quickly it will soon need to move to a bigger site.
He partly attributes this success to technology the company imported from Germany that cuts fabrication time to an average of 12 hours.
"Software allows the machinery to produce varying profiles and to operate at different speeds," he says. "We had the hydraulics and software modified especially for our requirements."
Fanos says the company also has a new blanking slitting machine, which further speeds up processing.
"In this industry, customer service and support, and getting the product out on time, are vital," he says.
F & M Fabricators has supplied flashing for some of Brisbane's biggest projects, including the new 110,000 square metre Woolworths facility at Larapinta.
Fanos says the company won the contract, which involved supplying 40 tonnes of flashing made from COLORBOND® steel, because of its quick turnaround record, and because he has built a strong reputation during his 16 years in the industry.
Before opening F & M Fabricators, Fanos sub contracted to BlueScope Steel as a fabricator of rainwater products for more than a decade.
He says this experience taught him to maintain strict procedures and rigorous safety standards.
"Staff are given thorough training and are taught about the wider aspects of the products they fabricate," Fanos says. "This ensures that fewer mistakes are made."
Fanos also takes a 'hands on approach' to ensure quality standards are always maintained.
"I see everything that goes out the door," he says. "Customers don't want to have to come back."
F & M Fabricators uses COLORBOND® steel and ZINCALUME® steel from BlueScope Steel because of its quality, Fanos says.
"It's the only way to go. It's what most architects specify, so why cut corners and get caught out?"
F & M Fabricators has reinforced its commitment to BlueScope Steel by joining the Steel By BlueScope Steel Brand Partnership Program. This allows the company to align itself and its products with the quality, service and support represented by the BlueScope Steel brand.
Steel By signage erected by F & M Fabricators also demonstrates the company's commitment to using quality steel products from Australia's leading steel supplier.
For further information contact:
Fanos Tanos
F & M Fabrications
Ph: 07 3255 6229
More about these products