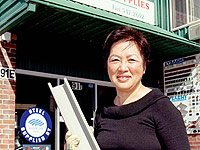 No Glass Ceiling in Steel Roof
25 May 2005
Diana Szetu is proving that a woman can successfully own, operate and expand her own steel roofing supplies business despite facing fierce competition in a strongly male dominated world. Diana has 25 years' experience in the field and owns and runs Complete Roof Supplies, based in Sydney's southern suburb of Carlton.
She is one of only a few women in Australia to own a roofing company and believes that at one point she was the only woman in New South Wales to do so.
"The steel roofing industry is unsurprisingly male dominated but I've been successfully growing my business despite that fact," Diana said.
"It's certainly proof that women can thrive in this field by hard work and persistence. I have learnt a lot over the years and I am still thoroughly enjoying it."
Complete Roof Supplies provides builders and carpenters with roofing products made from COLORBOND® steel and ZINCALUME® steel manufactured by BlueScope Steel.
The company is a member of the Steel By Brand Partnership Program and displays signage to demonstrate that it trades only in steel from Australia's leading manufacturer. It also highlights the association in its advertising and promotions.
"The strength of our business rests on the fact that we only purchase quality steel that originates from BlueScope Steel," Diana Szetu said. "The strong support provided by BlueScope Steel, particularly the warranty behind its products, cannot be equalled by anyone else."
Diana says she has always listened to her customers and aimed to meet their needs, thereby maintaining generations of customer loyalty.
Her open mindedness towards new products and changes in the industry has contributed to her success.
"But service remains our number one priority in the business. It is the key factor to retaining existing customers and expanding the clientele," she said
For more information:
Diana Szetu
Complete Roof Supplies
Ph: 02 9546 8163