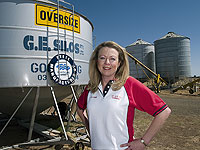 Orders Pouring in for Larger Grain Silos
23 January 2007
Victorian silo manufacturer G.E. Silos has expanded its workshop to cater for a growing demand for large grain silos.
G.E. Silos, based at Goornong 30 kilometres northeast of Bendigo, manufactures about 170 pellet and grain silos a year from ZINCALUME® steel for farmers across country Victoria and southern New South Wales.
"Crop farmers are increasingly asking for larger grain silos so they can store more grain on their farms and sell it when the price rises," G.E. Silos owner Lyn Comer says. "Those purchasing larger pellet silos also benefit because they receive discounts from stockfeed companies for buying pellets in bulk quantities."
The company added a 27.5 metre long, 8 metre wide and 16 metre high extension to the workshop in October, allowing it to manufacture grain silos with capacities of up to 120 tonnes, 50 tonnes larger than before.
G.E. Silos also manufactures industrial silos.
"One of our largest projects has been an industrial silo with a three stage stairwell, used to hold clay powder, an ingredient in plasterboard," Lyn says.
"It took four weeks to build, and ended up nine metres high. It was nearly as high as our workshop shed before we extended it, so we had to use cranes to lift it out!"
Most of G.E. Silos' business is manufacturing pellet silos ranging in capacity from 5.8 tonnes to 44.5 tonnes, and grain silos ranging in capacity from six tonnes to 120 tonnes.
"We sell grain silos mainly to crop farmers, and pellet silos to chicken, dairy, pig, sheep and cattle farmers," Lyn says.
"Our silos are made to order. Many clients require specifications that vary, depending on what they're using them for."
Once orders are placed, silos, which are fully assembled at the company workshop, are delivered in two to six weeks. They are then installed on a concrete foundation on site.
The roofs, walls and floors of the silos are made from ZINCALUME® steel.
"We use ZINCALUME® steel because it's ideal for roll forming, we find it thicker, sturdier and stronger than competing products," Lyn says.
"We're a proud member of the STEEL BY™ Brand Partnership Program, which we joined to promote quality, Australian made products, and align ourselves with Australia's largest steel manufacturer."
G.E. Silos employs between five and eight people, depending on the farming seasons.
"Winter is the busiest time for orders from dairy farmers, while the warmer months [October to late January] are busiest for grain farmers," Lyn says.
Lyn started G.E. Silos with her late husband Noel more than 20 years ago.
"We're very proud of our reputation for quality, and strive to ensure only the best products are used to create our silos," Lyn says.
"The farming community is the best grapevine we could ask for!"
For more information contact:
Lyn Comer
G.E. Silos Pty Ltd
Phone: 03 5432 2384
www.gesilos.com.au