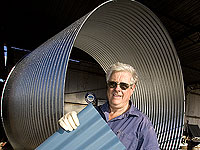 Parkes People Prefer Quality Steel Tanks
20 June 2007
A western New South Wales manufacturer says rainwater tanks made from AQUAPLATE® steel are the Rolls Royce products of the rainwater tank industry.
Parkes based Ray Arnott Water Tanks is owned by sole operator Ray Arnott who fabricates about three tanks a week for local farmers and homeowners.
Ray, whose work comes largely from word of mouth, says he uses AQUAPLATE® steel because it is durable, Australian made and produces clean tasting water because of its food grade polymer lining.
"AQUAPLATE® steel tanks are competitively priced against poly tanks, and come with a 20 year product warranty backed by BlueScope Steel," Ray says.
Ray Arnott Water Tanks fabricates round tanks with capacities of up to 23,000 litres.
"About 70 to 80 per cent of my sales are made to farmers who order 10,000 to 23,000 litre tanks to supply water for all household needs," Ray says.
He says tank sales are being driven by the drought, and his company is currently busy addressing demand.
"Last year was our driest on record. We recorded only approximately 150 millimetres of rainfall."
Ray, who established the company in 1975, says tank making has become more efficient over time.
"The sheets are longer now and need fewer joints. We also use stitching screws rather than rivets to hold the tank joints together, making fabrication a one man job," he says.
Ray says he recently custom designed a 20,000 litre tank for a farm in Warren. The tall, slim tank measuring 3.1 metres high and 2.75 metres wide was built to sit beside a shed on the farm.
Ray Arnott Water Tanks has also provided water tanks to several indigenous communities in western New South Wales, including those at Gilgandra and Bourke. The company recently fabricated 13 tanks for 13 houses at a community at Wellington, New South Wales.
Ray Arnott Water Tanks is a member of the STEEL BY™ Brand Partnership Program.
"I'm an Australian operator supporting Australian made products," Ray says. "When it comes to steel, quality is more important than quantity. Imported steel may be cheaper, but in my opinion it's an inferior product."
For more information contact:
Ray Arnott
Ray Arnott Water Tanks
Ph: 02 6862 1532