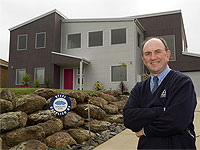 Personalised Service Offers Customers More
21 July 2006
Bigger isn't always better, according to Austin Swain of Pivot Homes. The Managing Director of the award winning Geelong design and building company believes Pivot Homes' small size and select group of well trained staff is the key to its success.
"We don't want to be too big," Austin says. "We want to have the right people who can do the right job, and can be trusted to do the right thing."
Pivot Homes recently won the 2006 Best Custom House under A$200,000 award from the Master Builders Association of Victoria (MBAV), the latest in a long line of accolades.
Past MBAV awards include Most Energy Efficient Home and Best Custom Home A$200,000 - A$350,000, as well as a raft of Western Victoria Housing Industry Association Awards including the 2005 Residential Building Designer Award, Most Innovative Use of Steel and Best Home over A$200,000.
Austin says Pivot Homes has a pool of salaried contractors to draw on, which allows the company to guarantee reliable, quality service and accurate costs.
Pivot Homes offers a "total building service" designed to take the hassle out of moving. The company can help with site selection and inspections, and provides in house landscaping and interior design services.
Specialising in designing and building houses in coastal areas, Pivot Homes is experienced at meeting local authority requirements.
"We're designing a lot of homes with a minimalist style and modern aspects," Mr Swain says. "We're also building in areas with environmental sensitivities, so our houses have to conform to strict environmental guidelines."
Pivot Homes is a member of the BlueScope Steel Brand Partnership Program, and displays the program's signage on building sites and in the office to highlight and promote its use of BlueScope Steel products.
Austin says his company's ability, through the brand partnership program, to align itself with the strength and quality associated with the BlueScope Steel brand added value to Pivot Homes' own brand and reputation.
"People have a good feeling about COLORBOND® steel," he says. "They know it represents durability and excellence in Australian made steel, and it's important that we reinforce this message through our quality products."
BlueScope Steel's Corporate Brand Manager, Leo Kerema, says it's equally important for BlueScope Steel to support customers like Pivot Homes.
"The brand partnership program allows BlueScope Steel to demonstrate the quality and versatility of its range of products, while supporting those organisations that secure their steel from BlueScope Steel."
For further information contact:
Austin Swain
Pivot Homes
Ph: 03 5243 2350