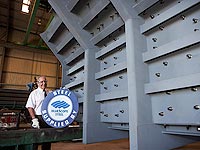 PIC Takes Its Pick In Fabrication And Construction
13 September 2007
Family owned West Australian Pacific Industrial Company (PIC) has figured prominently in this country's fabrication and construction scene since Italian immigrant Erasmo Mosole opened for business in 1969.
Since then, the company has manufactured and erected some of the biggest machines and infrastructure elements in Australia. It has filled orders from every Australian state and throughout South East Asia, most underpinned by steel products from BlueScope Steel.
Australia's current resources boom, fed by demand from emerging economies such as China, is maintaining a positive influence on PIC's activities.
As the company's long standing Business Development Manager George C. Petley puts it: "When it comes to the projects we become involved in, the sky's the limit. As big as they come, we'll do them!"
With a voracious appetite for BlueScope Steel products such as Grade 250 and Grade 350 XLERPLATE® steel, and other BlueScope Steel building products, as well as Bisalloy steel products based on BlueScope green feed stock, PIC consumes an average of 10,000 to 15,000 tonnes of steel every year.
The company's huge erecting shops at Naval Base, south of Fremantle, have fabricated elements as large as 65 metres long, 10 metres high and 14 metres wide.
PIC has been involved in all aspects of steel fabrication and construction over the years, covering engineering, procurement, fabrication, installation, commissioning and related fields including electrical, instrumentation and civil work.
"We end up erecting about 40 per cent of what we make, and we also erect for other organisations working in our field," George says.
PIC's undercover and under crane fabrication space totals about 25,000 square metres, with an adjacent five hectare lay-down area. While its workforce varies depending on the number and type of projects on its order books, some 250 shop workers and site personnel are currently engaged.
PIC is a familiar name on huge mining projects throughout Australia. The company has supplied and fabricated bespoke equipment and facilities for iron ore, coal and diamond mines.
It has also worked on power-generation, oil and gas, and major government projects, including the fabrication of large road and rail bridge sections.
George says the company has already built eight huge bucket-wheel reclaimers, stockpile stackers and ship loaders, some weighing as much as 900 tonnes each, for the West Australian iron ore mining industry in recent years.
At the other end of the construction spectrum, PIC has fabricated the roof for Perth's Convention Centre, a major grain terminal in Victoria, and a large coal-fired power station near Singleton, New South Wales.
Further afield, PIC has worked on a major 10-storey retail shopping facility in Jakarta, courtesy of a joint-venture arrangement in which the company was involved in Indonesia.
"This project was huge by any construction standards," George says. "On top of the shopping facility, we were engaged in fabricating and erecting 5,000 tonnes of steel supporting eight 40 storey residential towers, complete with swimming pools, gardens and other amenities!"
Given the growth potential in the Asian and South-East Asian markets, George says PIC wants to "remain active" in the region.
PIC is a member of BlueScope Steel's STEEL BY™ Brand Partnership Program.
"It's important for our customers to know they're buying equipment fabricated from steel that meets stringent Australian Standards," George says. "Many of our products, especially those incorporating heavy duty wear plates, are built for high-stress working conditions. They can't afford to fail.
"With high quality products like Grade 350 XLERPLATE® steel, we can help reduce overall weights while ensuring long working life."
For more information contact:
George C. Petley
Pacific Industrial Company
Ph: 08 8410 2566
www.pacific-industrial.com.au
More about these products