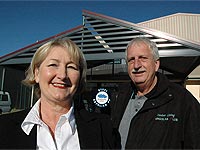 Pub Talk and Pergolas
10 July 2006
When word of mouth generates a large part of your business, you can't beat people singing your praises at the local pub.
Pergolas Plus Outdoor Living has that pub talk market largely on tap thanks to building the outdoor dining pergola at the Echuca Pub in rural Victoria. The pergola is an 18 metre by 17 metre triple gabled design that can shelter 150 people.
Echuca, set on the banks of the Murray River a short two hour drive north of Melbourne, is home to dozens of houseboats. The rural riverside setting is a romantic drawcard for tourists and a major reason why the owners of Pergolas Plus Outdoor Living, Ian and Julie Brooksby, moved there from Queensland.
Ian also had a background in making rainwater harvesting systems, rainwater goods and pool fences, and he wanted to continue working with steel. Pergolas Plus Outdoor Living builds an average of five steel pergolas per week for rural and metropolitan Victorian customers.
It employs 12 full time staff, including a draftsperson who plays a critical part in the building approvals process. Pergolas Plus Outdoor Living welds its own posts, brackets and flashings in house.
"Thirty to forty per cent of pergolas the company builds are prototype projects that require strong connections," Ian says.
The company uses a range of BlueScope Steel products, including COLORBOND® steel in LYSAGHT CUSTOM ORB® profile for roofing, and LYSAGHT FIRMLOK™ BEAM, a light, strong structural beam.
"LYSAGHT FIRMLOK™ BEAM offers us a very clean, complete finish," Julie says.
The company also uses downpipes and brackets made from steel from BlueScope Steel. A member of the Steel By BlueScope Steel Brand Partnership Program, Pergolas Plus Outdoor Living says the service they receive from BlueScope Steel is second to none.
"It's BlueScope Steel's knowledge, professionalism, product warranty, and ability to deliver and customer respect we like," Julie says.
Pergolas Plus Outdoor Living is also leveraging the strength and recognised quality of the BlueScope Steel brand against the quality of its own products and services.
The Steel By brand partnership signage that the company displays on its premises helps reinforce that its products are Australian made.
For more information contact:
Ian and Julie Brooksby
Pergolas Plus Outdoor Living
Ph:03 5480 1636

More about these products