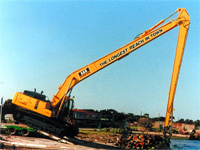 Quench and Temper advances produce better, flatter plate
31 July 2000
After two decades of developing and producing high strength and abrasion resistant steels for Australia's most rigorous industries, Bisalloy Steels has brought quenched and tempered (QT) plate into the modern era with enhanced fabrication qualities.
Traditionally, the major manufacturers of quenched and tempered (QT) steel plate have focussed on ensuring the performance and reliability essential in harsh environments such as mining, construction and defence. Recent Bisalloy developments however involve enhancement of product surface and flatness, together with weldability and fabrication improvements.
Driven by the needs of fabricators, designers and end users, manufacturers have concentrated over the past decade on developing "modern" steels with cleaner and leaner chemistries, as distinct from "conventional" T-1 type steels.
Bisalloy Steels' experience in this area demonstrates the key characteristics of these "modern" steels, the benefits they offer fabricators, and the methods by which they are achieved. Refinement of Bisalloy chemistries has resulted in lower carbon equivalents with improved weldability, impact toughness and formability. Modern QT steels with hardness up to 400HB, in thicknesses less than 20 milimetres and carbon equivalent of less than 0.45, offer weldability similar to as-rolled plain carbon steels.
The enhanced properties of these new steels allow engineers more flexibility in optimising design, provide fabricators with more user-friendly steels, and offer potential productivity gains to end users. Specifically, end users will enjoy more cost effective and efficient welding, fabricating, bending and rolling.
Flatness
A key factor is improved flatness, achieved by addition of a cold plate leveller to Bisalloy during the production process. Flatter plate allows edges to be easily aligned, with less time needed to weld the joins, resultant cost savings, and facilitation of processes such as flame cutting, drilling and machining. Also, when flatter plate is pressed or rolled, the end product is more consistent since the entire plate surface is in contact with the pressing tool or roll. In addition plate appearance after fabrication and painting is enhanced.
Bisalloy's new cold plate leveller is part of a A$2.75 million upgrade to improve performance and reliability in several areas of the production facility. Individual roll drives allow for roll load sharing and reduced power consumption, while hydraulic gap control cylinders provide improved resolution and allow higher loads to be applied. A new PLC means standard processing procedures can be established, and a new roll cassette change system accommodates levelling of plate thicknesses from 5 milimetres to 25 milimetres using the same leveller.
Surface condition
The second main characteristic of "modern" QT steels is the markedly improved surface condition. Traditionally, the quenching and tempering process leaves heat-treatment scale on the plate surfaces, which can present problems with subsequent processes of flame cutting, bending and welding. At Bisalloy, a million-dollar on-line shot blasting facility has been introduced to produce product with a smooth surface. This eliminates the need for grit-blasting, grinding or pre-preparation clean-up by fabricators, saving valuable time and money.
Despite the gains made in recent years, on-going research and development is needed to keep the Bisplate product range in step with the latest expectations of customers using quenched and tempered steels. Initiatives currently under consideration by Bisalloy Steels include painted plate; auto stencilling; further reductions in alloy content; and introduction of a high strength/high hardness combination grade with yield strength in the order of 1000 mega pascals.
Bisalloy will continue its improvement program in several key areas to meet the specific needs of industry. As design engineers search for new and innovative ways to construct taller and stronger buildings, or larger and more efficient mining machinery, the high-strength steel industry will develop the higher strength structural grades to meet the challenges.
By Michael Sampson
---
For more information on quenched and tempered steels:


Special Australian Steel Gives Taiwanese Cranes The Edge


High Strength Steels - Cost or Economy?