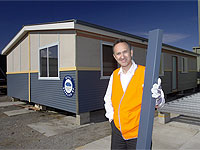 Quick Construction and Personal Service
26 June 2006
Mention building a new home, and most people automatically think months, even years.
But New South Wales company Stylewise Homes has eliminated lengthy construction periods so that most customers can enjoy their new home in only six to eight weeks.
The company, based at Unanderra near Wollongong, designs and builds manufactured and relocatable homes and cabins featuring roofs made from COLORBOND® steel and BlueScope Water rainwater harvesting systems.
General Manager, Steve Crates says the company mostly builds single level two or three bedroom homes for caravan parks and residential estates. It produces up to 70 homes a year, and has worked on some major contracts, including construction of 41 homes for a Canberra estate.
"We often manufacture for people in the mature age bracket who are looking to slow down and have less to do around the house," he says. "Many of our customers are looking for smaller sites and smaller houses."
Stylewise Homes is a family business that has been operating for more than 10 years, and Mr Crates says many customers appreciate the peace of mind in dealing with a smaller organisation.
After building its homes at its construction facility, Stylewise Homes then splits them into two 3.6 metre sections for transportation on specially designed trailers to their final erection site. The sections are then reassembled and verandas and carports are added.
Mr Crates says this method of construction provides more control over the entire building process.
"As the homes are being built in a controlled environment we can see what's happening. This enables us to manage our workforce and gives us better control over delivery of materials."
The company also has a flexible approach to design. "We modify designs to suit customers' needs, and are constantly altering and changing designs," Mr Crates says.
This flexibility, supported by the company's philosophy of personal service, sets it apart from other relocatable home businesses, he says. "We will sometimes return to the home to fix things that are not necessarily warranted, or are not a service item," he says.
Stylewise Homes, which has joined the Steel By BlueScope Steel Brand Partnership Program, uses BlueScope Steel products because of their proven quality.
Mr Crates says Stylewise Homes joined because the program helps the company demonstrate to customers that it builds quality homes from the best quality steel products available.
"We joined to be associated with BlueScope Steel," Mr Crates says. "BlueScope Steel offers high quality products, and being a member of the Brand Partnership Program helps us grow our business."
"COLORBOND® steel works well in our construction process because roofs made from it are strong yet lightweight. BlueScope Steel also provides impressive support. If we're looking at new products, BlueScope Steel helps us decide the most suitable steels for our uses."
For further information contact:
Steve Crates
Stylewise Homes
Ph: 02 4271 8960