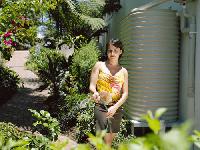 Rainwater Tank Rebates Save Water And Cut Bills
02 January 2003
The New South Wales and Victorian governments announcement of rebates of up to A$500 for installing a backyard rainwater tank are the latest in a growing series of 'water wise' initiatives around Australia to conserve water as drought conditions worsen.
Businesses and homeowners purchasing rainwater tanks in Sydney, the Blue Mountains and the Illawarra will receive the rebate under a pilot program announced by the New South Wales Minister for Energy and Utilities, Kim Yeadon.
The rebates will be paid to anyone who buys a rainwater tank for their home or business in Sydney Water's area of operation, with an additional A$150 for anyone who connects the tank to their toilet or washing machine.
Victorian residents are eligible for a A$150 cash back rebate for purchases of rainwater tanks and grey water tank systems under a just announced state government program.
Alex Dunlop of City Rainwater Tanks at St Marys in Sydney's western suburbs welcomed the plans to encourage people to use water from rainwater tanks.
"The entire community will benefit because research has shown that a lack of clean water is the biggest issue facing cities in the next 50 years," Mr Dunlop said.
"The traditional corrugated steel tank is now made from AQUAPLATE® steel with a food grade polymer coating developed by BlueScope Steel specifically for the purpose of collecting rainwater which can be used for drinking.
"We are seeing a steady increase in demand for tanks as people aim to minimise their dependence on town water," Mr Dunlop said.
Rainwater tanks made from AQUAPLATE® steel offer a combination of low price, long life and good looks.
The New South Wales Rainwater Tank Rebate Program will operate until June 2003, when it will be re-assessed by the state government with a view to it being introduced in other parts of the state.
Water saving initiatives are also receiving support at local government level around Australia with some urban councils making rainwater tanks compulsory in major developments.
"People are beginning to rediscover the benefits of rainwater tanks for their gardens and other household uses. They are keen to help conserve water for the environment and the future," Mr Dunlop said.
"The big surprise to many is the relatively low cost of a tank made from AQUAPLATE® steel, combined with the 20 year BlueScope Steel warranty."
BlueScope Steel backs AQUAPLATE® steel with a 20 year warranty* against corrosion to perforation.
*conditions apply
More about these products