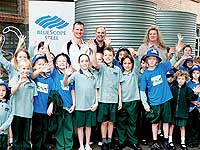 Rainwater Turns Inner Sydney School Green
17 July 2007
Sydney's Erskineville Public School is collecting and using rainwater to help convert an inner city 'asphalt jungle' into a sustainable and diverse garden oasis.
Thanks to two large WATERPOINT® rainwater tanks from BlueScope Water, the school is not only well into its Asphalt To Greenbelt program, in which a football field sized area of the playground has been dug up and replaced with grass, it is saving precious mains water by using rainwater to flush the toilets.
It has also cut its mains water consumption by installing three second timed spring return drinking taps throughout the grounds.
According to school principal Gai O'Neill, the two 8,200 litre tanks are also helping the school community develop what it calls an 'interactive garden', supporting a range of fruit trees and organically grown vegetables planted and nurtured by students and their families.
Installed a year ago, courtesy of a Federal Government Community Water Grants scheme injection with a financial top up from the school and broader community, the tanks stand proudly in the playground of the 125 year old school.
"We didn't want to hide them behind a building or bury them in the ground," Ms O'Neill said. "We wanted students to see them and play around them so they could be constantly reminded of the role these tanks play in supplying their water."
As the school has a heritage listed front facade, a decision was made to install traditional round corrugated steel tanks manufactured from AQUAPLATE® steel.
"Without our tanks, we would not be able to maintain the trees, gardens or grassed playing area," Ms O'Neill said.
The 220 student school plans to double in size in the next few years. "We will reopen several buildings to accommodate extra students, and we plan on installing another two rainwater tanks to address this expansion," Ms O'Neill said.
Parents and friends of the school have been active from the outset of the Asphalt To Greenbelt program. Apart from helping to secure the grant, more than 160 parents and students were on hand to help install the tanks, and a regular army of volunteers maintains the gardens and grounds.
"Being an active inner city school community, we have parents who are scientists, agriculturalists, architects and hydrographers, so we have an enormous pool of professional resources to call on," Ms O'Neill said. "We now have other schools throughout Sydney visiting us and studying what we've achieved, and what we plan in coming years."
Part of these plans is a huge community event scheduled for November 2007. Called Erko Berserko, this event, to be held annually, will showcase a range of water saving and sustainable technologies, and will help market the school's 'home grown' produce.
"We've already picked our first olives and have them soaking, and we'll also be marketing our citrus fruits, lemons, limes and oranges, as well as tomatoes, and jams made from our own cumquats," Ms O'Neill said.
And what values does the school wish to impart to students through its embrace of rainwater harvesting?
"If each student carries the message of the benefits of installing and using rainwater tanks back into the community, along with overall sustainability and gardening messages, the program will have been an enormous success," Ms O'Neill said. "So far, enthusiasm for what we are achieving shows no signs of abating!"