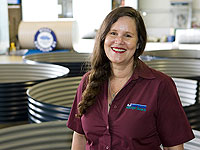 Round The Clock Service From Superior Water
20 June 2007
A south east Queensland rainwater tank company is manufacturing tanks 17 hours a day, six days a week, to meet demand.
Superior Water Tanks runs tank production lines in two shifts from 5:30am-10:30pm Monday to Saturday.
"We haven't needed to advertise for the past 12 months because demand is so high," General Manager Sue Evans says. "Our website alone generates sufficient leads each week to maintain business growth."
"When interest peaked in August 2006 we were receiving 850 online queries a week."
Managing Director John Kean bought the Jimboomba based company six years ago, growing it from four to 40 employees, including 11 women.
"Women play a key role in our company and are employed in all aspects of the business from organisational management, office administration and sales to factory floor supervision," he says.
Sue says the company's rainwater tank sales have doubled in the last year, and expects the boom to continue at least for the next three years.
"Only two to three per cent of Australian homes have installed rainwater tanks, so the potential market is huge," she says.
Tanks made from AQUAPLATE® steel account for 80 per cent of Superior Water Tanks' sales.
Half of those sales are made to the public, with the balance of sales being made through a network of trained distributors and resellers.
"Water tanks are such hot property we're receiving calls from new resellers every day," Sue says.
Sue says that Superior Water Tanks, which services an area north to Gympie, and west to the Toowoomba ranges, and south to Lismore in New South Wales, has recently fielded inquiries from the US, Fiji and the Solomon Islands.
Superior Water Tanks sells an equal number of round and slim tanks, with capacities up to 31,500 litres.
"About 80 per cent of our tanks are used to provide water to gardens," Sue says. "We can also link our tanks to household plumbing so they can provide water for use in laundries and for toilet flushing."
She says the company's tanks are also used to store drinking water.
Superior Water Tanks prides itself on its quality workmanship, and friendly, efficient service. It is a member of the STEEL BY™ Brand Partnership Program.
"The program is a useful marketing tool for our company," Sue says. "The Steel Edge and STEEL BY™ publications are a great way to keep informed of the latest industry news."
For more information contact:
Sue Evans
Superior Water Tanks
Ph: 07 5546 0292
Web site: www.superiorwatertanks.com.au