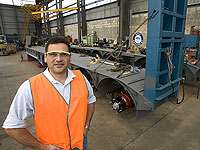 Rush For Low Loaders Fuels Trailer Business
23 January 2007
New South Wales low loader and heavy transport manufacturer Brentwood Trailers is experiencing unprecedented demand for its products throughout Australia and overseas.
Brentwood Trailers manufactures about 20 low loaders a year and is currently fabricating three at its Port Kembla workshops, with a rapidly growing order list for more.
Managing Director Jim Xidis says the resources boom in Western Australia and Queensland is driving demand.
"We can normally turn around orders for low loaders in three months, but the waiting list has blown out to nine months because orders just keep streaming in," he says.
"We're at a stage that if second hand low loaders become available, we can sell them for more than new models because customers just don't want to wait nine months."
Brentwood Trailers offers 20 different models and ranges including dollies, folding goosenecks, full widening trailers, plant trailers, wide line design trailers and widening deck trailers.
Sales Manager Michael McBriarty says widening deck trailers with rear steer axles are an economical choice for those wanting to lessen tyre wear.
"The wheels don't sit as wide as the load, so a set of tyres will last up to four times longer than those under full widening models, and the trailer is easier to manoeuvre," Michael says.
Brentwood Trailers' highly specialised units are designed to carry loads from 10 tonnes to 150 tonnes, and can be used to transport everything from earth moving equipment and electricity sub stations through to fighter planes.
Australian customers include the Department of Defence, Department of Main Roads, Boral Asphalt, BlueScope Steel's Industrial Markets division, Mount Isa Mines and a raft of local government bodies across the country.
The company also exports low loaders to Hong Kong, China, Indonesia, Western Samoa, Papua New Guinea, Vietnam, Thailand, Pacific Islands and South Africa.
Brentwood Trailers is a family run business that was bought 25 years ago and expanded in 2001 with the takeover of M & S Truck Bodies.
M & S Truck Bodies is a subdivision of Brentwood Trailers that specialises in the manufacture of truck bodies, trays and tipper trailers.
Jim says the company has lifted M & S Truck Bodies' turnover from A$1 million a year to A$12 million a year in just five years.
All Brentwood Trailers' units are custom built from Bisalloy Steel products that are made by quenching and tempering BlueScope Steel green feed plate.
"A lot of truck body builders use imported plate, but it doesn't wear as well," Jim says.
"We like to use quality Australian products so we can label our machinery 'Australian made' and give our customers confidence in our manufacturing standards. That's why we joined the STEEL BY™ Brand Partnership Program, to align ourselves with one of Australia's leading brands."
Brentwood Trailers has 30 mostly long term employees at its three Port Kembla workshops. The fabrication workshop is undergoing expansion to double its size.
For more information contact:
Jim Xidis
Brentwood Trailers
Phone: 02 4276 2030
www.brentwoodtrailers.com.au