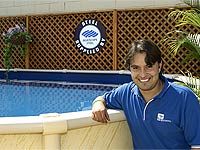 Safe Backyard Bathing, Without Taking a Bath
09 June 2006
Quality steel components, coupled with creative installation, are fast making above-ground pools a safe and affordable option for landscaped backyards, especially those on slopes.
Stern's Playland general manager Joel Stern says his company can build and install semi in ground pools to suit the contours of most blocks for approximately half the price of traditional cement in ground pools.
"Semi in ground pools are proving particularly popular for mortgage-belt families wanting the luxury of their own pool without the prohibitive cost," he says. "We also guarantee our pools for 20 years."
Stern's Playland, a Sydney based family business that has been producing above ground pool kits for more than 40 years, currently manufactures about 2,000 pools a year.
It constructs pool frames in heavy duty GALVABOND® steel from BlueScope Steel, and manufactures pool walls from COLORBOND® steel in a variety of colours. Pools are supplied with heavy duty UV stabilised vinyl liners.
The company can usually install steel pools within a month, compared with the typical three month or longer wait for concrete in ground pools. Mr Stern says a home handyman can also install his company's pool kits. About 20 per cent of the company's pools are self installed.
"We use steel from BlueScope Steel because of its quality and durability. Everyone knows the COLORBOND® steel name, which is instantly associated with protection."
He says that although the use of inferior types of steel has sometimes given above ground pools a bad name, the quality and reliability of GALVABOND® steel and COLORBOND® steel was fast turning this attitude on its head.
"Pools manufactured from inferior grades of steel can collapse, unleashing thousands of litres of water that damage your property, and possibly that of your neighbours," Mr Stern says.
"We insist on thicker gauge steel for our pool walls." Pools manufactured by Stern's Playland have received National Gold Medals in 1996, 1998 and 1999, and the company is a member of both the Swimming Pool and Spa Association, and the National Spa and Pool Institute.
It also exports pool kits to 15 countries throughout Europe, the Middle East, Asia and the Pacific. The company has joined the Steel Supplied By BlueScope Steel brand partnership program to highlight its preference for quality steel originating from Australia's leading steel manufacturer.
For more information contact:
Joel Stern
Ph: 02 9608 1111
More about these products