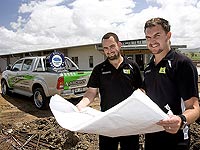 Service Takes Ascent Building Solutions To The Top
18 May 2007
There's no greater accomplishment for a young company than being recognised as the best in its industry.
After slightly more than 18 months in business, Queensland company Ascent Building Solutions was announced winner of the 2006 Sunshine Coast Business Excellence Awards for the Construction and Building Industry an astonishing achievement in such a short period.
Since founding the specialist metal roofing and accessories business, Jared Hinkley and Terry Styles have enjoyed overwhelming success at their new Beerwah factory and now employ 10 full time staff and engage as many as seven installation teams.
The partners attribute Ascent's success to their underlying attitudes and those of their staff. They say their motivation and ability to network well with clients and customers has enabled the company to secure contracts with national builders, Queensland Government departments and with high profile customers from northern New South Wales through to northern Queensland.
Ascent Building Solutions recently reroofed a large sporting complex on Queensland's Gold Coast. The project involved removing asbestos roof sheeting and installing new roofing made from COLORBOND® Ultra steel, specified by the customer because of the building's proximity to salt water.
Other projects Ascent has been involved in include the replacement of more than 300 storm damaged house roofs throughout South East Queensland following a spate of hailstorms.
The company was also involved in refurbishing the Queensland Ballet Building (Thomas Dickson Centre) in West End, Brisbane.
"The mammoth task involved the removal and replacement of about 1,500 square metres of asbestos roof sheeting with roofing made from COLORBOND® steel," Jared says.
Both Jared and Terry have adopted what they call a 'hands on' approach to the business to ensure quality and value for money, and to deliver innovative, value added products.
They pride themselves on their ability to provide customers with the highest level of service and quality workmanship, while ensuring timely, professional and accurate advice.
"Excellent service is excellent business," Terry says. "Going that extra mile for your customers to show that you appreciate and respect them is a key to success."
"Our buying power and efficient services ensure our prices are spot on, but we keep customers and attract new ones because we truly service them. We grow with our customers, and we adapt and streamline our systems to intertwine with theirs, and implement changes based on feedback to achieve first class service."
"This is evidenced by the extremely high level of referrals we achieve," Jared adds. "About 80 per cent of our new work consists of referrals from existing customers. Our customers can trust us to get the job done quickly and professionally, with little to no disruption to their business."
Ascent is also a member of the STEEL BY™ Brand Partnership Program, and sources roofing products through BlueScope Lysaght, and through BlueScope Steel distributors Stramit and Stratco.
"We joined the STEEL BY™ Program to align our company's reputation with the reputation of the BlueScope Steel brand," Jared says.
"We enjoy the benefits that program membership brings, including receiving the STEEL BY™ and Steel Edge publications. They're a great source of industry information, and keep us informed of product and technical developments."
"We use and recommend only COLORBOND® steel and ZINCALUME® steel, as they are recognised as quality, Australian made products," Terry comments.
But Jared and Terry aren't resting. They say they are already investigating opportunities to expand, and are keen to soon showcase some innovative products they say will revolutionise their industry.
"Meanwhile, we'll continue focusing on building and maintaining solid business relationships with all our valued customers and suppliers," Jared says.
For more information contact:
Jared Hinkley
Ascent Building Solutions
Ph: 07 5439 0990
www.ascentonline.com.au
More about these products