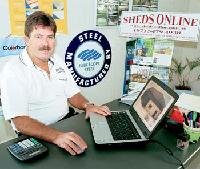 Sheds Online Weaves Web of Success
02 May 2005
A Queensland company is marketing pre-fabricated steel buildings to customers across Australia and overseas by relying only on its website. Maroochydore based Sheds Online receives nearly 11,500 website visits per month.
Its website www.shedsonline.com.au regularly leads rankings for the search term "sheds" amongst the world's most widely used internet search engines such as Yahoo and Google.
"There's definitely been a rise in business as an increasing number of people become comfortable with doing business online," said Sheds Online proprietor Terry Ledden, who founded the company in 2001.
"Operating exclusively online keeps our overheads and prices down and allows us to concentrate on design and fabrication quality."
The company's products include sheds and garages for domestic and industrial purposes, all backed by a 25 year warranty, fully certified engineering plans and cyclone ratings for tropical regions.
"We rarely meet customers face to face, everything is done electronically or by post," Mr Ledden said.
"We recently joined the Steel By Brand Partnership Program because we recognised the strength of a well known brand, especially when you are selling over the internet."
"Sheds Online highlights the strength and durability of COLORBOND® steel and ZINCALUME® steel rollformed in BlueScope Lysaght's cladding profiles, and Purlins made from GALVASPAN® steel, as part of the quality which goes into for the fabrication of our steel buildings."
"We have customers all over Australia and we've even sold sheds online to customers in New Caledonia," Mr Ledden said.
"Using quality product from BlueScope Steel helps our reputation with customers, especially those who may never have dealt with us before."
Sheds Online customers receive a thorough assembly guide to help them erect the building they purchase. An after sales erection service is also available.
For more information:
Terry Ledden
Sheds Online
Ph: 07 5479 4938