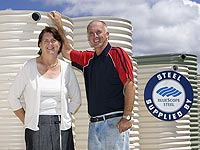 Slimline Rainwater Quenches Queensland's Thirst For Tanks
18 May 2007
With Level 5 water restrictions now in place in South East Queensland, demand for rainwater tanks has increased five fold in recent months, according to Slimline Rainwater Tanks.
Owners Ian Carruthers and Lesley Wilson, farmers for 20 years before buying Caloundra based Slimline Rainwater Tanks four years ago, say demand for the company's tanks has been so great they've already moved their factory twice to bigger premises.
"When Level 4 water restrictions were imposed on South East Queensland homes and businesses in November 2006, our sale of 3,000 litre tanks increased," Lesley says. "Since January, demand for our 5,000 litre slim tanks has sky rocketed after large tanks became compulsory in all new homes."
Slimline Rainwater Tanks sells about 140 tanks a month, with capacities ranging from 550 litres to 5,400 litres.
"We now have 10 tank makers working in a 1,000 square metre workshop equipped with two curving rollers and two riveters," Lesley says. "Our tanks are popular with builders and homeowners because they look great and are ideal for small blocks."
Lesley says a major advantage of slim tanks is that they allow a large amount of water to be stored on small housing blocks. Because of the popularity of its 5,000 litre tanks, the company has developed three different models catering for varying height restrictions.
"We have a 5,000 litre tank that's less than one metre wide!" she says.
Lesley says Slimline Rainwater Tank's units, which cost A$610 to A$3050, are also eligible for the Queensland government's A$1,000 tank rebate.
All of the company's tanks are made from AQUAPLATE® steel, which is easy to maintain, corrosion resistant, and coated with a food grade polymer for clean tasting water.
The tanks, available in a galvanised finish or in one of two prepainted COLORBOND® steel colours Pale Eucalypt® or Paperbark® carry a 20 year BlueScope Steel product warranty.
"AQUAPLATE® steel is delivered pre cut, and we then curve it to set patterns, add a double sided AQUAPLATE® steel base, stainless steel rods, a lid, and fixtures," Lesley says.
"These stainless steel rods are vital because they maintain the integrity of a tank's structure, stopping it from bulging under the pressure of the water."
When filled with water, a 5,000 litre tank weighs slightly more than five tonnes.
"As there's a lot more pressure in tall tanks, we drill about 40 support rods across the width of a tank two metres high, then secure them in place with stainless steel nuts."
Slimline Rainwater Tanks tests all tanks for water tightness before they leave the factory.
"We offer to deliver and install tanks because it's important they're sitting on a strong base such as a concrete slab, and have the tank overflow connected to the stormwater system," Lesley says.
Slimline Rainwater Tanks is a member of the STEEL BY™ Brand Partnership Program.
"There is no other tank making product like AQUAPLATE® steel in the world," Lesley says. "It's strong, lightweight and looks great."
Slimline Rainwater Tanks was initially a rainwater tank and roofing company, but Ian and Lesley separated the two businesses in 2006, creating Roofrite Building Products.
Roofrite Building Products, which specialises in asbestos removal and roofing made from COLORBOND® steel for luxury homes, has removed asbestos from schools in an area stretching from Brisbane to Mackay, and installed new roofing made from COLORBOND® Ultra steel.
"Believe it or not, we not only operate two companies, we also run a lychee farm!" Lesley says.

For more information:
Lesley Wilson
Slimline Rainwater Tanks
Ph: 07 5438 2844
www.slimlinetanks.com.au
More about these products