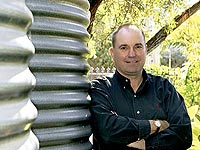 Small Suburban House Yields Impressive Rainwater Results
17 July 2007
A small inner Newcastle suburban house is yielding statistics from long-term monitoring that point to enormous potential savings for urban residents electing to harvest rainwater.
What's more, these findings cast serious doubts on prevailing calls for major new reservoirs or desalination plants, especially in Australia's major cities.
The house, complete with a corrugated steel roof and two corrugated steel rainwater tanks made from AQUAPLATE® steel, is owned by Conjoint Associate Professor Peter Coombes at the School of Environmental and Life Sciences, University of Newcastle, and his partner Janine. Dr Coombes' position at the University of Newcastle has recently been funded by Bluescope Steel to continue his long-term research into integrated water cycle management.
These tanks were supplied and installed by Cessnock Tank Works, now a member of the STEEL BY™ Brand Partnership Program.
"Based on my research, water solutions for most Australians living in major cities and coastal regional centres could adequately be augmented by decentralised solutions, including rainwater harvesting systems," Dr Coombes said.
He feels comfortable with his findings, as his house in the inner city suburb of Carrington has been closely monitored for the past seven years. "No other house in Australia has been as closely monitored for as long when it comes to rainwater harvesting and its effects," he said.
The first myth that was debunked is that you need a large roof area or large tanks to benefit from rainwater harvesting. The roof area of Dr Coombes' house is only 95 square metres, and the tanks can hold 2,200 litres each. These tanks, in turn, have trickle top up with mains water, ensuring the household never runs out of water.
A small pump has been plumbed in which supplies water for all household uses, including drinking water. The only other concession to water saving is a 4A rated front loader washing machine. The couple does not use a dishwasher, which could arguably save even more water.
Dr Coombes' personal savings have amounted to more than A$9,300 over the past seven years, more than offsetting his initial tank, pump and plumbing installation costs of A$3,280.
He attributes his reduced water consumption, energy requirements and subsequent lower CO2 emissions to the lower energy used by his pump. "Because the pressure is lower than mains water pressure, we run tank water through our system at the rate of eight to nine litres per minute, compared with some 20 litres of mains water a minute, resulting in reduced water heating costs," Dr Coombes said.
"Decentralised water management strategies have a number of distinct benefits," he said. "First, there's reduced demand for mains water, and availability of local water sources increases with population."
"Second, there's reduced greenhouse gas emissions because of lower energy requirements to process and pump less mains water, providing a buffer against the impact of climate change. Third, there's a marked improvement in regional water security."
Another major benefit would come from reduced stormwater and sewage discharge to the environment.
"However, I believe the benefits most underestimated when looking at rainwater harvesting are the overall reduction in mains water required to service a city, the savings that could be made in sewage and stormwater infrastructure, and the value of these benefits to society and various ecosystems," Dr Coombes said.
"With catchment water levels at all time lows in all capital cities except Adelaide, Australia needed to consider implementing decentralised water management systems, where as many households as possible use tank water, sooner rather than later," Dr Coombes said.
"Our current centralised dams and reservoirbased systems were developed through last century as one way of drought proofing our major cities," he said.