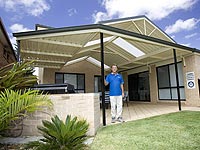 Smaller Is Better For Customer Focused Business
18 May 2007
After deliberately downsizing, a 43 year old, family run company in New South Wales believes it is better able to deliver personalised service, quality workmanship and customer satisfaction.
Tarnel Constructions designs, manufactures and installs residential carports, pergolas and awnings, and offers customers free onsite quotes.
Owner of Tarnel Constructions Colin Tarman says he took over from his father Keith in 1986 with the aim of delivering better service.
"In the 1960s and 1970s we serviced all of Sydney, and there wasn't a lot of competition," Colin says. "Now we service only the Eastern Suburbs, and the St George and Sutherland Shire in Sydney.
"We're now about a third of our original size, but continue to offer high quality carports, pergolas and awnings made from BlueScope Steel products at competitive prices.
"We have four employees working on four to five jobs a week, ranging from flat roof carports to gable roof awnings."
Colin says people often choose a flat roof awning because it's more cost effective, and provides a covered outdoor entertainment area, and play area for the kids.
Most carports, awnings and pergolas measure about 30 square metres, and have roofing made from LYSAGHT TRIMDEK® or LYSAGHT CUSTOM ORB®.
Tarnel Constructions also uses LYSAGHT FIRMLOK™ BEAMS and the LYSAGHT SHEERLINE® guttering system which features concealed fixing for a clean, seamless finish. All four BlueScope Lysaght products are made from COLORBOND® steel.
"When the company started, COLORBOND® steel didn't exist," Colin says. "These days, people recognise the brand and like the selection of colours it offers."
He says that among his clients the most popular colour in the COLORBOND® steel range is Classic Cream™.
"For a gable roof design, we would generally use darker shades such as COLORBOND® steel in the colours of Ironstone® or Headland® for the roof, with a light, reflective colour like Classic Cream™ or Surfmist® for the ceiling," he says.
Most work comes from advertising in local newspapers and the local Yellow Pages directory, and about 10 to 15 per cent of jobs come from word of mouth, Colin says.
"We have many customers who have stayed with us for over 30 years, and call us when they move house," he says.
Three generations of Colin's family have worked for Tarnel Constructions, his son Sean is employed as an installer, and his wife Helen runs the accounts.
Colin says the company recently bought a new factory at Taren Point in Sydney's south for use as a manufacturing, storage and display area.
"We use the factory space to cut the LYSAGHT FIRMLOK® BEAMS to size, connect the brackets, and store pre-cut roofing products from BlueScope Lysaght," he says.
Tarnel Constructions is a member of the STEEL BY™ Brand Partnership Program.
"We're keen to promote quality, Australian made products, and see an advantage promoting the fact that we use only BlueScope Lysaght products," Colin says.
"We can confidently direct people to BlueScope Lysaght products because they deliver the look, colour and price our customers want."

For more information contact:
Colin & Helen Tarman
Tarnel Constructions
Ph: 02 9527 3838
More about these products