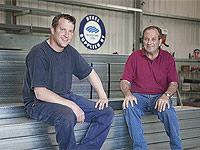 Smart Steel Safeguards South Australian Wines
06 January 2006
A McLaren Vale family business is helping to preserve some of South Australia's greatest assets, in steel.
Amace Industries is utilising building products from BlueScope Steel to help the region's wineries cost-effectively store their highly sought-after product.
Mario Amabili and his son David established the company in 1991 to meet the district's growing demand for rural sheds.
"As well as my son David, my wife and two daughters work in the business," Mr Amabili said.
"We built our first wine barrel storage shed about eight years ago when the wineries began to outgrow their storage capacity and we have built more than two dozen since then."
The company's simple and effective barrel storage solution consists of double-skinned sheds, purpose-built in steel from BlueScope Steel, to ensure an even temperature.
For instance, the 32x12m wine barrel storage facility Amace Industries recently built for the Kangarilla Road Winery in McLaren Flat incorporates exterior walls clad in LYSAGHT TRIMDEK® profile rollformed from COLORBOND® steel in the colour Surfmist®.
The walls are lined with R2.0 batts and a further layer of insulating material.
A roof clad in LYSAGHT CUSTOM ORB® profile rollformed from ZINCALUME® steel covering a two-layer insulation treatment, then clad internally with LYSAGHT CUSTOM ORB® profile rollformed from ZINCALUME® steel completes the envelope.
"We have always made it clear to our customers that we use only Australian-made materials and that we use only the best," Mr Amabili said.
"We know from discussions with the owners of sheds we have built that our construction methods provide a very stable interior temperature.
"There is a lot of money tied up in the sheds' contents, so the quality of our workmanship is vital."
Amace Industries recently joined the Steel By BlueScope Steel brand partnership program to highlight its preference for quality steel originating from Australia's leading steel manufacturer.

For more information contact:
Mario Amabili
Amace Industries
Ph: 08 8323 9522

More about these products