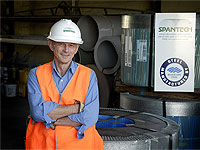 Spantech Raises the Roof
11 September 2006
Bolts, beams and supporting structures might seem like crucial parts of any roof.
But an Australian company has found international success with a self supporting arched roof that can span more than 40 metres, without any of these space consuming and sometimes unsightly elements.
The patented system, which can be made from COLORBOND® steel or ZINCALUME® steel, has been used throughout Australia and around the world for a range of building purposes, including leisure centres and agricultural storage facilities. It is also used for defence purposes.

Spantech General Manager Tom Watts says the company designs and builds the roofs, which are rollformed onsite, so that it can provide any length customers require.
The roofing panels are connected using a patented interlocking system.
"So you end up with a totally smooth interior, which not only emphasises the building's airy, open appearance but eliminates several disadvantages of conventional framing," Tom says.
Skylights, lights, insulation and other features can be incorporated easily.
Tom says that because Spantech buildings eliminate the need for girts or purlins, they are quick and economical to construct.
"You also get more space, so they're ideal for leisure centres."
Spantech's strength and efficient use of space means the roofing system is especially beneficial for defence buildings such as hardened explosives storehouses and aircraft hangers.
Tom says all Spantech roofs are constructed using COLORBOND® steel, ZINCALUME® steel and ZINCFORM® steel by BlueScope Steel.
"We know that when we get steel from BlueScope Steel we're getting an absolutely consistent product. We know how it will respond in our machines and on our roofs."
Spantech is a member of the Steel By BlueScope Steel Brand Partnership Program.
Tom says BlueScope Steel offers excellent technical support, with experts always available to answer questions about BlueScope Steel products.
"Aligning ourselves with BlueScope Steel helps Spantech reinforce our image as a local, Australian company."
For further information contact:
Tom Watts
Spantech
Ph: 07 5593 4449
More about these products