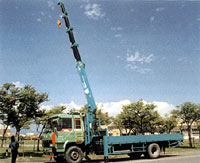 Special Australian Steel Gives Taiwanese Cranes The Edge
30 January 2002
A recent export success for Bisalloy Steels serves to illustrate how the engineering benefits of quenched and tempered (Q&T) steels can, in the right application, be turned into tangible and substantial market benefits.
Taiwan's leading manufacturer of truck-mounted cranes, GW Machinery, has dramatically increased its market share since adopting Bisalloy's Bisplate steel for its cranes. Already well established with its mild steel units, the company selected Bisplate as the solution to its need for reduced weight and increased performance. Its enhanced design has achieved a 50 percent increase in sales and a massive 80 percent market share.
Founded just 10 years ago, GW Machinery turned to Bisalloy after a wide ranging quest to find suitable steel for its purposes. Operating in a fiercely competitive market, it sought to produce cranes that were lighter, could reach higher and lift heavier loads. In the crane market, it was the ultimate test of the principle that "less is more".
But to be a practical business solution, the company knew its technology would have to be not only functional, but also cost-effective. It had three principal criteria for the steel required. It must be a world class, high strength steel that would enable the weight of the crane to be reduced, yet at the same time increase the lifting capacity of the unit; the plates must achieve a guaranteed flatness tolerance; and delivery must be both secure and keenly priced.
The use of Bisplate clearly achieves the design objectives. Overall crane weight was reduced by 1500kg, while lifting capacity is increased by 2000kg. In addition, Bisplate's higher strength allowed thinner and longer boom sections, extending critical reaching capacity by 1.6 metres.
For GW Machinery's customers, the practical benefit has been a useful increase in payload and considerable income gains as a result. This, in turn, has helped the company to achieve its spectacular market growth - a total market success for Bisalloy, GW Machinery and any number of crane operators in Taiwan.
GW 2005 Crane - Comparative Performance
Previous Design
(Mild Steel)
Current Design
(Bisplate)
Min Material Yeild Strength (MPa)
250
600 and 690
Min Material Tensile Strength (MPa)
400
690 and 790
Crane & Ground Support Frame (kg)
7,800
6,300
Max Crane Lifting Capacity (kg)
18,000
20,000
Max Extension (m)
16.0
17.6
---
For more information on quenched and tempered steels:
High Strength Steels - Cost or Economy?
Quench and Temper Advances Produce Better, Flatter Plate