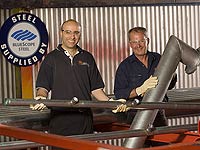 Sprinkler Pipes Fire Up New Business
23 January 2007
South Australian company Fire Fabrication Services Pty Ltd has doubled in size in the last two years due to growing demand for commercial and industrial sprinkler systems.
The company specialises in fabricating sprinkler and hydrant pipework for the fire industry and conducts work for fire contractors such as Wormald Fire Systems, Australian Fire Services and many others.
Fire Fabrication Services has won major contracts in South Australia, Victoria, Queensland and the Northern Territory since it was established in January 2004.
"We have fabricated half the sprinkler and hydrant systems in the new Adelaide Airport and recently landed significant interstate contracts including a large office building in Darwin and an industrial warehouse in Melbourne," Fire Fabrication Services Director Mike Iacovino says.
Mike says company sales grew 50 per cent in its first 18 months, with similar growth in the 2005/06 financial year.
Fire Fabrication Services fabricates 90 per cent of its sprinkler systems from 6.5 metre long pipe made from BlueScope Steel strip steel converted into pipe product, and sourced from OneSteel and Orrcon. The company orders more than 600 tonnes of pipe a year.
"The fabrication process involves cutting, roll grooving, threading of the pipe, and then welding paps [which contractors screw their sprinkler heads into] and branches," Mike says.
"We also screw gal mal fittings when required onto the end of pipe, commonly known as 'make on' fittings, and we etch, prime, paint and hot dip galvanise the sprinkler and hydrant pipework."
"It's designed to meet stringent Australian safety standards and is pressure tested to withstand more than two and a half times its operational pressure."
Fire Fabrication Services operates from a 1,032 square metre workshop in Adelaide and employs 10 people. It has two directors, Mike Iacovino and Stephen Macdonald. The company plans to move to larger premises in the next two to three years because of continuing growth.
"We've bought land nearby and plan to build a 1,500 square metre workshop and double storey office there," Mike says.
Fire Fabrication Services joined the STEEL BY™ Brand Partnership Program to promote Australian made steel products.
"It's important we use good quality, pressure tested steel pipe that meets the Australian Standard. BlueScope Steel materials play an important part in that process."
Mike says the company enjoys benefits associated with the program such as using STEEL BY™ program signage and stickers.
"They're great marketing tools," he says.
For more information contact:
Mike Iacovino
Fire Fabrication Services
Phone: 08 8445 1901
Fax: 08 8445 1755
E mail: sales@firefab.com.au
www.firefab.com.au