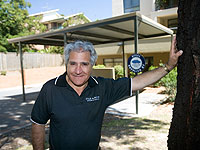 Star Treatment For Customers
30 April 2008
One of Sydney's oldest home improvement companies has downsized to focus on quality carports and awnings for mid to top end homes.
Star Port Constructions, which started operations in the 1950s before being bought by current owners Tony and Frank Carrapetta more than 30 years ago, now has 10 employees.
Tony Carrapetta said the family run company had scaled down to focus on quality service and workmanship for the mid to high end domestic market.
"We undertake 30 to 50 jobs a month involving the design, supply and installation of carports and awnings," he said. "We fabricate fully engineered structures at our Peakhurst workshop because we prefer using heavy brackets and beams rather than off-the-shelf componentry."
"Our structures are test assembled, powder coated and then installed on site by our team of experienced installers, and come with our seven year construction warranty."
Star Port Constructions regularly carries out building work for the domestic, commercial, government and insurance industries.
Mr Carrapetta said the company had supplied and installed walkways and seating area covers for many Sydney schools, hospitals, commercial and industrial sites.
"We undertook a large project for Lumeah High School in the 2006/2007 Christmas break," he said. "We installed a covered walkway using LYSAGHT TRIMDEK® roofing to link the front entrance and carpark to administration and classroom buildings."
"We've also built industrial loading dock and storage structures for BOC, Baxter Healthcare and Kimberley-Clark in Sydney."
Mr Carrapetta said Star Port Constructions generated many projects through a network of builders, repeat customers and via word of mouth.
He said the company was also a preferred sub-contractor for builders in the insurance industry.
"We generally have two to three insurance jobs going at any one time," Mr Carrapetta said. "However, during the storm season, our insurance work can double overnight, accounting for up to half of our workload."
Star Port Constructions has used BlueScope Steel products since 1974.
"Most of our awning and carport roofs are made from LYSAGHT TRIMDEK® because it's a good quality, cost effective product," Mr Carrapetta said.
"We recommend LYSAGHT CUSTOM ORB® for gable roof projects requiring a traditional style, and front patio and al fresco style awnings made from LYSAGHT FLATDEK®, a modern cladding product, because it creates an upmarket, flat ceiling look."
Star Port Constructions also uses LYSAGHT SupaCee® purlins for projects such as triple-bay carports and industrial structures, to achieve large, open spans.
The company is a member of the STEEL BY™ Brand Partnership Program.
"BlueScope Steel has provided us with reliable service and quality products for more than 30 years," Mr Carrapetta said. "We're simply not interested in dealing with anyone else."
For more information contact:
Tony Carrapetta
Star Port Constructions
Ph: (02) 9534 2188
www.starport.com.au
More about these products