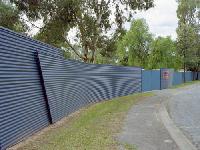 Steel Enclosure No Barrier To Art
09 May 2003
Gawler Council has capitalised on the talents of renowned South Australian sculptor Marijana Tadic to create a colourful, eye catching enclosure for a caravan park.
The artistic design was constructed around the 88 site Gawler Caravan Park to provide both privacy and a sound barrier.
Ms Tadic used her artistic background to create a continuous feature wall that curves and flows along an adjoining river that surrounds the park.
She chose COLORBOND® steel and used the corrugated profile both vertically and horizontally in the colours Deep Ocean® and Torres Blue* for her design.
"I wanted to continue the concept of the river flowing around the park and create a positive impact on the surrounding environment," Ms Tadic said.
"By using COLORBOND® steel both horizontally and vertically I was able to create an interesting design that changed in appearance and colour at different times of the day."
The sculptured barrier surrounding Gawler Caravan Park was erected by local contractor Willaston Fencing and runs nearly 300 metres, its height varying between 1.9 metres and 2.4 metres.
"The range of colours and the corrugations of COLORBOND® steel made it fun to work with," Ms Tadic said.
"I was able to make it twist and turn to follow the contour of the site and blend it in with its surrounds."
Marijana Tadic is a sculptor with a building background who has been involved in a number of major South Australian public works projects.
These include the Adelaide Gateway on the Adelaide-Crafers Highway, the Goodwood Community Centre in Goodwood and a multi-level carpark in Gawler.
*Torres Blue is part of the COLORBOND® steel secondary colour range.