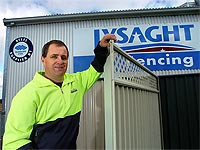 Steel Fencing Pushes New Boundaries
19 July 2006
The devastating Canberra bushfires of January 2003 have generated a huge demand for steel fencing in the Australian Capital Territory.
Third generation timber supplier Pinus Sawmills has grown by 10 per cent since it expanded its product range to include fencing made from COLORBOND® steel two and a half years ago.
"There's been a lot of publicity surrounding the way fencing made from COLORBOND® steel has withstood the bushfires and saved homes," says company owner Doug Reid.
"Tests carried out by the CSIRO and Bushfire Cooperative Research Centre have proved steel fencing can help protect your home from bushfires."
Doug says his company's sales of fencing made from COLORBOND® steel have increased dramatically in the last 12 months.
"We've bought A$1.2 million worth of fencing products from BlueScope Steel already this financial year."
The company's stocks of steel fencing products are made from COLORBOND® steel in LYSAGHT NEETASCREEN® profile and LYSAGHT SMARTASCREEN® profile.
Doug says his company's most popular steel fencing product is in the LYSAGHT NEETASCREEN® profile. "It's easy to install, termite and rot resistant, and can be used on stepped and sloping ground."
The company generates business through an extensive network of contacts in the ACT.
"My grandfather started the business in the 1950s as a timber mill," Doug says. "Pinus Radiata was the timber they cut and that's where our name comes from."
While the company has changed with the times, its strong business ethics haven't.
"Our point of difference is our service," Doug says. "Our supplies are well stocked, we offer same day delivery and we provide product replacement within the hour if there's a problem."
Pinus Sawmills joined the Steel Supplied By BlueScope Steel Brand Partnership Program to align its reputation with the recognised quality and service offered by Australia's leading steel supplier.
"Fencing is a very competitive industry and there are lots of imported products out there," Doug says.
"The program lets me do my bit to promote Australian made steel, while reassuring our customers that they're buying quality Australian products backed by excellent warranty support."
For more information contact:
Doug Reid
Pinus Sawmills
Ph: 02 6297 2484

More about these products