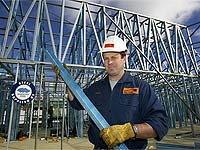 Steel Frames with Grunt
28 July 2006
Business is booming for New South Wales Southern Highlands based company Aus-Truss as engineers begin to appreciate the cost effectiveness of lightweight steel frames.
To speed construction, and cut building costs, Aus-Truss has developed a roof lift system that allows builders to construct a steel frame roof on a building's base before hoisting it into position with a crane.
"Because this method avoids double handling, it's much faster and more efficient than more traditional methods. It's also far safer from an Occupational Health and Safety perspective," Aus-Truss owner and builder Andrew Fowler says.
Andrew launched Mittagong based Aus-Truss more than three years ago to specialise in providing lightweight building and house frames that can withstand everything from termites to cyclone strength winds.
With an emphasis on building relationships with architects, engineers and builders, Aus-Truss wins a lot of major contracts for large commercial buildings, houses, aged care facilities and schools.
"It is through a unique relationship with professional builders, engineers and architects that Aus-Truss is able to create solutions using 1.2mm grade TRUECORE® steel," Andrew says.
"It means we can manufacture trusses with a span of up to 18 metres, structures which are simply supported."
This is particularly popular with architects who are increasingly designing open plan buildings.
Aus-Truss' project portfolio includes the 160 bed Gill Waminda aged care facility in Goulburn, design and construction of tiered floors for five lecture theatres for the University of Western Sydney, Parramatta, and the Greenhills Conference Centre at Mt Stromlo, Canberra.
The company won the projects by alternative tender process, redesigning structures using steel and undertaking the engineering certification. Andrew says Aus-Truss' is committed to finding engineered building solutions.
"Our slogan is 'steel frames with grunt', because our steel frames are so strong," he says.
"Using structural steel in building frames can be expensive, you get much better value for money with frames made from TRUECORE® steel."
The company is a member of the Steel By BlueScope Steel Brand Partnership Program, open to companies that source 80 per cent or more of their steel supplies from BlueScope Steel or a BlueScope Steel Distributor.
Andrew says Aus-Truss relies on BlueScope Steel for its quality products and the fact that TRUECORE® steel comes with a 50 year guarantee*. BlueScope Steel's technical support is also excellent.
"We put the Steel By logo on all our stationary because it's a point of difference and people recognise it. That's really important nowadays because a lot of companies use imported steel," he says.
"When we tell customers we manufacture our frames from TRUECORE® steel, they know they are dealing with quality products."
For more information contact:
Andrew and Lisa Fowler
Ph: 02 4871 3555
Web: www.aus-truss.com.au
* Conditions apply. For more information on warranty terms and conditions please see our page Warranties for Peace of Mind