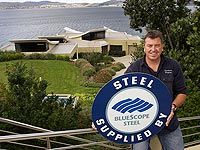 Steel Sales Strong For Southern Roofing
13 September 2007
Roofs made from COLORBOND® steel are being installed on nine out of every 10 new homes in Tasmania, according to a local roofing company.
Southern Roofing owner David Johnson, who has 24 years' experience in the roofing industry, says steel roofs have dramatically increased in popularity in the last decade.
"When I started Southern Roofing in 1997, 80 per cent of new roofs were tile, with the remainder steel," David says. "Now, it is the reverse 90 per cent of new roofs are steel."
The company, which services homes within a 150 kilometre radius of Hobart, installs 16 to 20 roofs a month on new homes.
"Southern Roofing supplies and fixes BlueScope Steel fascias and gutters made from COLORBOND® steel and ZINCALUME® steel, and roofing made from COLORBOND® steel in all profiles," David says.
Southern Roofing's office and showroom are situated at Kingston, one of Hobart's fastest growing areas. The company's service includes picking up and quoting building plans.
"When homeowners are ready, we measure the job and can have our installation team at work in two to three days," David says.
It takes about one and a half to two days to install fascia and gutters, and two to three days to install roofing on an average sized home.
Southern Roofing also undertakes challenging roofing projects on modern, architecturally designed homes.
"We recently completed work on a waterfront home at Sandy Bay for local builder Clayton Worbey," David says. "The roof was designed to look like sails, with two sections curving in opposite directions."
He says Southern Roofing generated business because of its reputation for reliability and quality work. The quality of his employees is another key to Southern Roofing's success.
"We've had the same fixers for 10 years, and those workers train our apprentices. It ensures good work practices are passed on, delivering customers consistent, quality service," David says.
"Our company is well respected in the local building community. About 80 per cent of our business is generated through return customers, with the balance coming via word of mouth and our Yellow Pages listing."
Southern Roofing is a member of the STEEL BY™ Brand Partnership Program.
"The program allows us to keep up to date with industry developments, and provides us with great marketing material," David says. "We use STEEL BY™ stickers on all our invoices and envelopes."
For more information contact:
David Johnson
Southern Roofing Pty Ltd
Shop 6/34 Mertonvale Circuit, Kingston
Ph: 03 6229 9910
More about these products