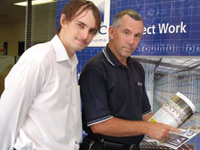 Storage Solutions Easy For APC
04 May 2009
While IKEA is renowned for providing home furnishing solutions, it turned to leading storage solutions company APC Group to fitout a new store in Perth, WA.
APC Group custom design and fabricate an extensive range of racking solutions made from Steel supplied by BlueScope Steel. These include pallet racking, universal steel shelving, cantilever racking, mezzanine floors and raised storage areas. Established in 1972, APC Group has grown to become one of Australia's largest manufacturers of storage and handling systems.
"Our customers expect us to deliver quality, reliable products that accommodate their various needs, said Chris Fudge, APC Storage Solutions Engineering Director. "Manufacturing our products from steel supplied by BlueScope Steel is our customers' assurance that they are receiving the best quality available."
APC Storage facilities span 25 hectares, with fully and semiautomatic processing lines and rollformers incorporated within the machinery areas which include three separate factories, one for roll forming of pallet racking, one for the sheet steel shelving and a fabrications plant for structural components.
The facility also includes a showroom, warehousing, sales centre, engineering and administration premises.
"As an Australian manufacturer, it's important for us to use quality material to produce a superior product. Our pallet racking is required to reliably store multiple pallets weighing in excess of 1,000 kilograms up to 10 metres high." Mr Fudge said.
"Using quality steel, such as that supplied by BlueScope Steel, with reliable strength ratings gives us an edge over competitors who use inferior imported steel products." "Displaying the STEEL BY™ logo positions APC Group in the market as a quality, Australian, safety conscious company," he added.
"The IKEA project was one of the largest we have undertaken and we're currently working on two 100 metre long triple storey raised storage areas with automated conveyor systems for national retailer Strandbags in Sydney."
Chris explained, "We use high tensile steel and work it very hard into complex rollformed designs. This makes it extremely important that we use materials that combine good structural characteristics with good formability and weldability."
"It's also important the steel is uniform throughout to reduce the need to adjust machinery during the production process. Our machine operators find steel from BlueScope Steel offers this consistency and aids production efficiency," he said.
APC is proudly 100% Australian owned with all products made in Australia and used World Wide.