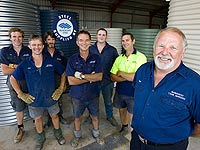 Tanks A Million For Enterprising Country Company
21 May 2007
A rural Queensland rainwater tank company has celebrated an impressive milestone of $1 million in sales in one month, with an order book running well into 2008.
Based in the 4,500 strong town of Nanango two and a half hours' drive north west of Brisbane, Nanango Tank Makers manufactures 100 steel tanks a week using 15 tonnes of AQUAPLATE® steel.
"We reached our first million dollar sales month last December!" owner Neil Wratten says.
Tanks made from AQUAPLATE® steel account for two thirds of Nanango Tank Makers' sales, with the balance coming from the huge corrugated steel Rhino modular tanks (designed for rural applications) and poly tanks it distributes.
Demand for the company's tanks is so great that the number of employees has increased seven fold, Neil says.
"We've grown to 20 employees since starting Nanango Tank Makers in 1998, at a time when we couldn't even buy rainwater tanks in town," he says. "Sales have grown dramatically in the last three years because of water shortages, and we now have a network of suppliers extending south to Byron Bay (in northern New South Wales), north to Mackay and west to Goondiwindi."
Nanango Tank Makers also regularly receives calls from as far afield as Sydney and Darwin.
The company's slim and round tanks made from AQUAPLATE® steel are popular in city and town areas.
"We manufacture slim steel tanks in two sizes only, 3,000 litre and 5,000 litre capacities, to streamline our production line," Neil says.
Nanango Tank Makers runs two production lines, one for its slim tanks, the other for round tanks, at its 600 square metre factory, and expects to boost output 40 per cent in May when it doubles the size of the factory.
"We have a computerised building process which uses a machine to curve the steel exactly the same way every time, allowing the walls to fit together perfectly," Neil says.
"We also use automotive gear from the US to put the tops and bottoms on the tanks, a fine tuning process that's unique to us because of my previous work in the automotive brake and exhaust industry."
Neil says he's never needed to mention the $1,000 rainwater tank rebate in Queensland because his company's tanks have been selling themselves.
"AQUAPLATE® steel is the most under rated product in Australia," he says. "It's so durable, tanks last for years."
Designed specifically for use in water tanks, AQUAPLATE® steel is coated with a food grade polymer for clean tasting water, and has fire, UV and corrosion resistant qualities that make it ideal for both urban and rural environments.
Neil says his company, a member of the STEEL BY™ Brand Partnership Program, prides itself on the quality of workmanship of its AQUAPLATE® steel tanks.
The program also allows Nanango Tank Makers to align itself with the quality reputation associated with Australia's leading steel manufacturer.
For more information contact:
Neil Wratten
Nanango Tank Makers
Ph: 1800 130 150
www.ntm.com.au
More about these products