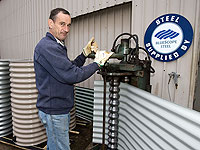 Tanks In Tassie Thanks To BlueScope Steel Ad
20 June 2007
A Tasmanian rainwater tank manufacturer's sales have risen significantly in recent months thanks largely to BlueScope Steel's national advertising campaign promoting water tanks and rainwater harvesting systems.
Peter Dixon Tank Maker, based at Wynyard in north west Tasmania, manufactures five to eight round and slim tanks a week.
Owner Peter Dixon says slim tank sales have risen to 30 per cent of his company's tank sales because of the advertising campaign and growing urbanisation throughout Tasmania.
"Tasmania doesn't offer water tank rebates, but locals want to be environmentally friendly," Peter says. "Slim rainwater tanks are popular in smaller capacities (360 litres to 720 litres) because they're competitively priced, suit the look of modern homes and fit well on smaller building blocks."
"I'm also developing a range of larger size slim tanks."
"The tanks I manufacture are mainly used to collect drinking water because, unlike other parts of Australia, the region's usually steady rainfall provides enough water for gardening and household chores."
The remaining 70 per cent of tanks sold are round tanks with capacities of up to 9,000 litres. These are made from AQUAPLATE® steel in a galvanised finish or one of two COLORBOND® steel colours.
"Customers like the look of corrugated steel because it's such an Australian icon," Peter says.
A sole trader with two curving machines and edge forming machinery, Peter can fabricate and deliver a rainwater tank within 10 days, and generates sales through plumbing companies, word of mouth and advertising in the Yellow Pages.
"I sell about a third of my tanks to local plumbing companies which on sell them," Peter says.
Established in 1984, Peter Dixon Tank Maker has manufactured rainwater tanks from AQUAPLATE® steel and other BlueScope Steel products for 15 years.
"AQUAPLATE® steel is durable, resists corrosion and is coated with a food grade polymer to ensure clean tasting water," Peter says.
Tanks made from AQUAPLATE® steel carry a 20 year BlueScope Steel product warranty*.
Peter also provides bull nosing and curved roofing services for roofing companies and builders throughout Tasmania, including onsite curving services.
Peter Dixon Tank Maker is a member of the STEEL BY™ Brand Partnership Program, and uses STEEL BY™ stickers on his tanks.
"I enjoy reading small business success stories in the Steel Edge and STEEL BY™ publications, particularly those about rainwater tank manufacturers that are experiencing rapid growth," Peter says.
For more information contact:
Peter Dixon
Peter Dixon Tank Maker
Ph/fax: 03 6442 3547
Email: dixontanks@our.net.au
* For more information see our page Warranties for Peace of Mind.