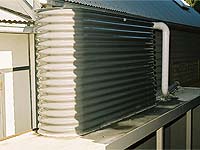 The Block Saves Water With WATERPOINT SLIMLINE® Rainwater Tanks
14 July 2003
BlueScope Steel and The Block are leading the way for sustainable housing with the installation of three new WATERPOINT SLIMLINE® rainwater tanks.
BlueScope Steel has donated three WATERPOINT SLIMLINE® rainwater tanks to The Block with one 1,600 litre tank fitted to the common area rinse off shower and two 2,040 litre tanks fitted to the ground floor units for garden irrigation and incidental use. The tanks have been installed in order to offset mains reliance and reduce water from entering the stormwater system in peak loading.

Available in a galvanised steel finish or a range of prepainted colours, The Block's WATERPOINT SLIMLINE® rainwater tanks have been post painted in the colour Windspray® to match The Block's newly installed roof made from COLORBOND® steel.
The tanks have been made using AQUAPLATE® steel and have been developed by BlueScope Steel specifically for the rainwater tank market. Using a food-grade polymer skin bonded to the inner surface, AQUAPLATE® steel ensures your water tastes clean and fresh, free from tainting from the tank itself and is the only steel tank to comply with the tough Australian Standards on the use of plastic materials for food contact use.