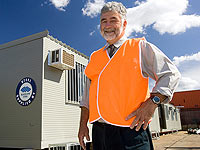 The Future Adds Up For Modular Buliding Company
18 May 2007
National modular building company Australian Portable Buildings (APB) is expected to significantly increase annual turnover by 2010 under the guidance of new owners.
Founder and former Managing Director Rick Welch, who started APB in a small shed in 1979, sold the company to private equity group Champ Ventures in February, paving the way for his retirement this year.
Growing demand for modular buildings for an ageing population and the trend towards energy efficient, environmentally friendly housing are expected to be important factors in the company's continuing success.
APB operates out of factories in Brisbane, Sydney and Perth. APB's buildings are built for construction and industrial sites, the mining industry, schools, government departments, commercial purposes and special events.
The company constructed more than 100 buildings for the XVIII Commonwealth Games in Melbourne in 2006, and 100 buildings for the Sydney Olympics in 2000. It has also exported buildings to South Africa and New Caledonia.
Rick says APB has a reputation for building sturdy, quality buildings.
"We use heavier floor joists, stronger ply and thicker welded studs than the average portable building builder, so our floors don't feel springy," he says.
APB building walls are made from LYSAGHT PANELRIB® in COLORBOND® or ZINCALUME® steel or the equivalent Stramit product made from BlueScope Steel feed, with roofing from Zammit Roofing Products made from BlueScope Steel feed, and LYSAGHT® Rainwater Solutions.
"About 80 per cent of our buildings are steel because it's strong, rigid, recyclable, low maintenance, and easy to repair," Rick says. "If a steel building is damaged, we can fix it quickly and simply by replacing the cladding and rewelding the studs."
Rick says APB enjoys challenging jobs such as the classroom the company built at Sydney's Newington College, and a similar project at St John Bosco College at Engadine.
"We were aiming for an architectural look at Newington College, so we designed a curved roof," he says. "We had the beams specially rolled and curved to create height and shape."
"We can assemble most buildings in four to five days, but classrooms generally take two to three weeks."
APB, a member of the STEEL BY™ Brand Partnership Program, employs about 140 people, with many of the company's 30 apprentices from the last 28 years now in management positions.
"We use BlueScope Steel products in all of our steel buildings because it's the best material for modular building needs," Rick says. "Steel is a strong, durable, and recyclable product for future generations."

For more information contact:
Rick Welch
Australian Portable Buildings
Ph: 02 9604 9888
www.apb.com.au
More about these products