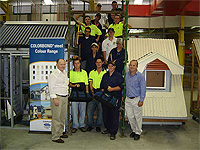 Training for the Top Grade
11 March 2005
Sixteen trainees have graduated from the latest pre-vocational metal roof installation Certificate 1 courses held at the Gymea, Maitland and Mount Druitt TAFE campuses. And, because of rising demand for steel roofs across Sydney, 13 of these have already been snapped by leading Sydney and regional roof installation companies.
The fully subsidised course involved eight weeks instruction in the college and five weeks onsite work experience, with graduates receiving a free tool pack valued at A$500 to start them off in their apprenticeships. The courses commenced in early November 2004 and were jointly funded by BlueScope Steel and the NSW Department of Education and Training (DET). The pre-vocational programs were aimed at school leavers across Sydney and Newcastle looking for a rewarding trade career.
"This is a fantastic opportunity for students to get involved in a career with huge potential," said Raymond Jones, senior head teacher of plumbing and metal roofing at Gymea TAFE. "This suits a lot of school leavers who want to quickly get started in a rewarding career."
The previous course of this kind run at Gymea early last year, also saw the vast majority of its students employed by metal roof installation companies where they are now working as indentured apprentices.
According to Chris Kenny who is one of these apprentices: "I really enjoy working outside, the hours are flexible and you get the weekends to yourself. One day I hope to have my own roof fixing business."
The popularity of steel roofing has continued to increase over recent years because of its added strength, its long life and its thermal efficiency. Roofing made from COLORBOND steel has protected homes especially well in extreme weather conditions, such as hail storms, where damage can otherwise be extensive and costly to repair.
According to Sarah Najdek from BlueScope Steel: "Through a commitment to growing the market for steel we expect the current need for trained metal roof installers to rise even more in the years to come, making it an ideal job for ambitious apprentices. Indeed, trained roof installers can earn up to A$100,000 a year when established and enjoy working during normal daylight hours with plenty of time to enjoy the fruits of their labour. Metal roofing installers also have a permanent record of their work for everyone to see."
Traditionally, metal roofing students in NSW come through a conventional apprenticeship scheme, including three years at TAFE, before becoming a qualified metal roofer. This course, sure to be run again because of its success, is designed to help students find immediate employment via an apprenticeship scheme and includes key competencies to install a metal roof safely. Following the completion of this 13 week course, graduating students have the opportunity to continue with further study and become a qualified metal roof fixer.
For more information about courses and careers in metal roof installation contact:
Raymond Jones
Gymea TAFE
Ph: 02 9710 5090
or visit the website specifically set up for careers in steel at www.careerinsteel.com.au