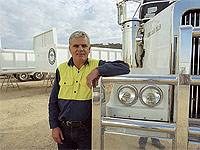 Truck Body Maker Tipping Strong Growth
26 July 2005
A regional New South Wales manufacturer of aftermarket automotive body parts is defying stiff local competition and filling firm orders for truck tipping bodies and trays for light and heavy commercial vehicles as far as Canberra and Sydney.
Henry Hope Engineering, in East Wagga Wagga, believes its products give the company a distinct edge against larger competitors throughout the State, as they are manufactured using steel from BlueScope Steel and tailored to match custom specifications of cab-chassis truck formats.
The company is also witnessing this quality translating into solid orders from other highly competitive regional markets in New South Wales.
While many customers are based in south western New South Wales, Henry Hope Engineering is also filling orders from regional centres like Bourke, Narromine, Condobolin, Gilgandra, Albury and Gunnedah.
The company's diverse clientele include local government bodies, as well as major trucking contractors and dealerships. It also services a rising number of rural and regional customers, including smaller and larger farmers alike.
"Agricultural activity tends to peak around the September-October harvest season, but truck dealerships and other non-farming customers turn up all year round," said the company's proprietor, Henry Hope.
"The fact that we manufacture our products from steel using BlueScope Steel is more than enough to maintain our customers' trust."
"While some trucks come back for maintenance work, most of our products perform trouble-free in the field for many years."
Henry Hope Engineering joined the Steel By Brand Partnership Program because of the quality and reliable supply of steel provided by BlueScope Steel and its distributor, Smorgon Steel.
"The signage we received from BlueScope Steel also boosts the confidence existing customers have in our company and our steel products, and encourages new customers to call on our services," Mr Hope says.
For more information contact:
Henry Hope
Henry Hope Engineering
Ph: 02 6921 2822