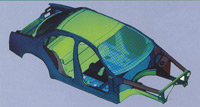 Ultra Light Steel Auto Body (ULSAB) Project
06 December 2005
The UltraLight Steel Auto Body (ULSAB) project proves the future viability of steel for automotive body manufacture.
ULSAB is a lighter, stronger automotive body structure that offers greater fuel economy and costs no more to build than current vehicle body structures.The ULSAB steel body structure weighs just 203kg - 25% less than the average benchmarked in the project's concept phase.
Its manufacture concludes the A$28 million ULSAB project sponsored by a consortium of 35 leading steel companies, including BlueScope Steel, from 18 countries around the world.

ULSAB design and manufacturing management was carried out by Porsche Engineering Services, in Michigan, USA. The ULSAB design team at Porsche started with a "clean sheet of paper" and a holistic approach that viewed the body structure in its entirety rather than as individual components, to achieve major weight savings.
Crash Simulation


Computer modelling demonstrates the ULSAB body structure meets international standards for a variety of crash tests while achieving better structural performance with less weight. The ULSAB design relies on advanced materials and manufacturing processes including high strength steels, tailor welded blanks, tubular hydroforming and assembly laser welding to provide lighter weight for maximum performance.
Physical tests show ULSAB is both stronger and stiffer than currently manufactured bodies for improved levels of handling and reductions in noise, vibration and harshness (NVH).
Tooling
All ULSAB parts were manufactured using production-intent tools by component fabricators in Europe and the United States with no hand forming. Porsche Research and Development in Weissach, Germany, assembled and tested the ULSAB structure.
Manufacture
ULSAB is lighter and stronger, and costs no more to manufacture than current automotive body structures - clear proof that steel now emerges as a material of choice for designers to reduce vehicle weight.
Independent economic analysis of ULSAB confirms that a lightweight steel body structure can be manufactured at no cost penalty and with potential cost savings.
ULSAB also embodies key environmental implications. Its major benefits are fuel efficiency, reduced emissions and the use of fewer resources.
The ULSAB project results and all techniques and processes, many of which are unique and patentable, are freely available from BlueScope Steel to its customers.
ULSAB Results
| | | |
| --- | --- | --- |
| | Benchmarked Average | ULSAB |
| Mass (kg) | 271 | 203 |
| Static Torsional Rigidity (Nm/deg) | 11,531 | 21,310 |
| Static Bending Rigidity (N/mm) | 11,902 | 20,540 |
| 1st Body structure mode (Hz) | 38 | 60 |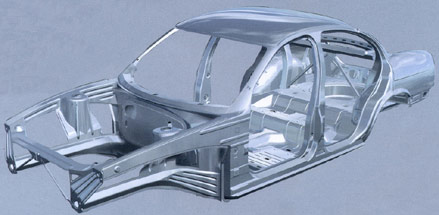 The final result: a design solution that is lightweight, affordable, structurally sound and executable wth steel
Visit the World Auto Steel Website.